New Area with Gold in Soil Anomalies Occuring on The Peerless Claims, Goldbridge Mining Camp, South-Central British Columbia
Vancouver, B.C. - TheNewswire - September 13, 2023 – Bathurst Metals Corp. ("Bathurst" or the "Company") (TSXV:BMV) (OTC:BMVVF) is pleased to announce the assay results from our spring soil sampling program on the Peerless Mineral Tenures ("Peerless") property located in the Goldbridge Mining Camp ("Goldbridge Camp") in south-central British Columbia. The soil sampling program was designed to cover an area where thrust bound, ultramafic intrusives occur. The ultramafics were observed to be listwanite altered; a classic geological setting in the Goldbridge Camp known to host gold deposits.
The Goldbridge Camp, located 180km north of Vancouver is remarkably similar to the Mother Lode camp of California in terms of ore mineralogy, wall rock alteration and geological setting. The Goldbridge Camp contains over 60 mineral localities including the historical large producer Bralorne Mine, which yielded over 4 million oz gold. The Bralorne Mine and is still being actively explored. Currently, other juniors are active in the Goldbridge Camp area and are consistently getting good results. Our nearest neighbour, Endurance Gold Corporation's Reliance Gold Project last reported 7.87 grams per tonne gold over 7.6 metres (September 5, 2023, news release).
The Peerless Property, located in the heart of the Goldbridge  Camp contains historical drill assay results of up to 28.92 grams/tonne gold over 4.57 metre drill lengths in similar geological and structural settings to other deposits in Goldbridge Camp.  
Field crews collected a total of 200 soil samples over an area of altered ultramafics. Figure #1 below provides a plan view of historical gold in soil anomalies in the Peerless, Beta and Alpha Zones and also shows the newly discovered Lamba and Kappa Zones, with gold in soil anomalies.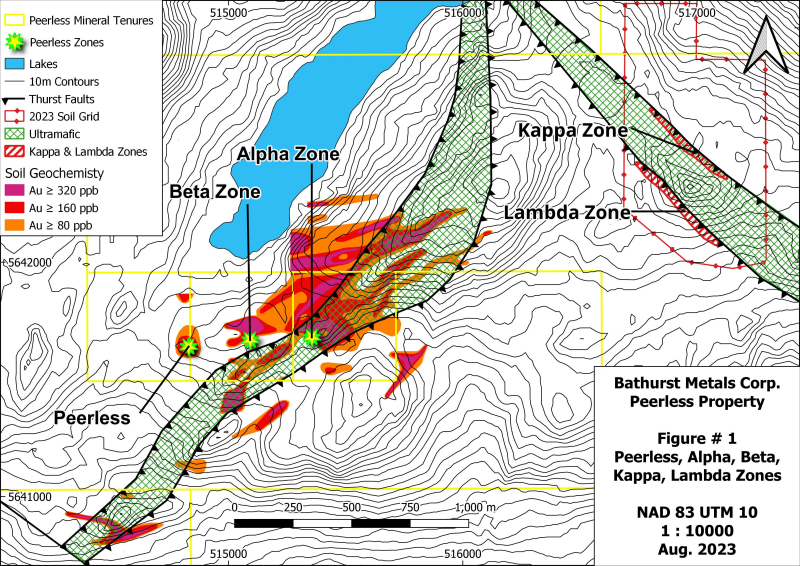 Click Image To View Full Size
Figure # 2 is a Google Maps plan view of the topography and road access to the Lamba and Kappa zones. The Peerless project covers an area of subdued topography with good two-wheel drive road access to most of the property with making the project easy to work year-round.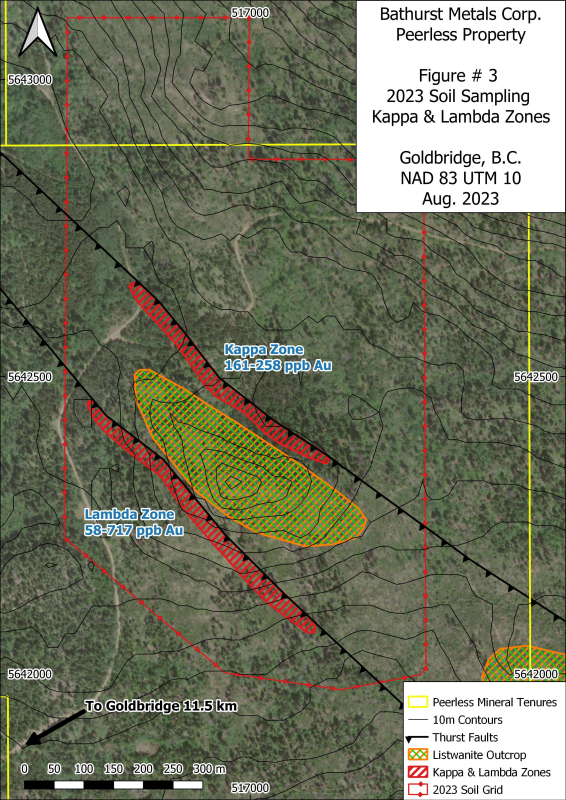 Click Image To View Full Size
A drill permit application has been submitted and approved by the British Columbia Ministry of Mines once the bond has been posted by the Company. The drilling program is timed to occur later this year.
Bathurst President, Lorne Warner said "At this point, every area that Bathurst has collected soil samples over has returned anomalous gold values. Our geological team believes the project hosts a similar structural and geological setting as the known gold deposits in the Goldbridge  Camp".
Qualified Person
Greg Bronson, P Geo, is a qualified person as defined by National Instrument 43-101 and has reviewed
and approved the scientific and technical disclosure in this news release.  Mr. Bronson is not independent of the Company.
ON BEHALF OF THE BOARD OF DIRECTORS

Bathurst Metals Corp.
For more information contact Harold Forzley
info@bathurstmetalscorp.com
Neither TSX Venture Exchange nor its regulation services provider (as that term is defined in the policies of the TSX Venture Exchange) accepts responsibility for the adequacy or accuracy of this release.
Forward Looking Statements
Certain of the statements made and information contained herein may contain forward- looking information within the meaning of applicable Canadian securities laws. Forward-looking information includes, but is not limited to, information concerning the Company's intentions with respect to the development of its mineral properties. Forward-looking information is based on the views, opinions, intentions and estimates of management at the date the information is made, and is based on a number of assumptions and subject to a variety of risks and uncertainties and other factors that could cause actual events or results to differ materially from those anticipated or projected in the forward-looking information (including the actions of other parties who have agreed to do certain things and the approval of certain regulatory bodies). Many of these assumptions are based on factors and events that are not within the control of the Company and there is no assurance they will prove to be correct. There can be no assurance that forward-looking information will prove to be accurate, as actual results and future events could differ materially from those anticipated in such information. The Company undertakes no obligation to update forward-looking information if circumstances or management's estimates or opinions should change except as required by applicable securities laws, or to comment on analyses, expectations or statements made by third parties in respect of the Company, its financial or operating results or its securities. The reader is cautioned not to place undue reliance on forward-looking information.
.