Element79 Gold Corp Provides 2023 Summary and Corporate Update with Focus on Bringing Lucero Towards Production in 2024
VANCOUVER, BC - TheNewswire - November 2, 2023 – Element 79 Gold Corp. (CSE:ELEM) (OTC:ELMGF) (FSE:7YS) ("Element 79 Gold", the "Company") is pleased to share the following summary of activities and accomplishments in 2023 as well as provide an update on the Company's focus through 2024.
Since its IPO, Element79 Gold Corp has been on an aggressive M&A path, acquiring key assets, including the Nevada Portfolio and the Lucero Gold-Silver project, which is now our primary focus.  Our business model going forward aims for a quick, clear path towards beginning production of gold and silver in the near term.
2023 Year-in-Review
This year, we transitioned from a project incubator to a production focus on our high-grade Lucero Project. As we pivoted business models, the M&A newsreel was constant as we completed multiple value-driving divestitures:
Lucero: We expanded the property in June 2023 received Exploration Permits in September 2023,  and continued to focus our efforts on our high-grade flagship project. 

Machacala Transaction Cancellation: In March 2023, we halted the Machala deal to refocus better and conserve funds. Return of shares involved with the deal anticipated before end of 2023.  

Centra Sale:  We sold two projects to Centra for CAD $1,000,000 in stock in May 2023. Centra is completing its 43-101 on the Long Peak property and commencing final filings for its own IPO. Once Element79 receives these shares and are freely trading, they'll be strategically managed for corporate growth and investment into operational budgets.  

Valdo Sale: We're also selling three projects to Valdo Minerals for CAD $1,250,000 in stock, through a deal announced in November 2022 and extended in May 2023. Valdo has a similar business trajectory as Centra, with the timeline staggered by approximately 9 months, and the Company will strategically manage these shares in a similar fashion as those from Centra.  

Dale Spinout: In July 2023, we transferred the Dale Property to Synergy Metals Corp.  Special Shareholder Meeting set for December 11, 2023; Record Date for Notice of Meeting, Record Date for Voting and Beneficial Ownership Determination Date of November 6, 2023.Further progress updates and timing estimates for completion on the Plan of Arrangement Spin Out will be announced following the meeting. 

Snowbird Project: Currently under negotiations with Plutus for future project advancements. 

Maverick Springs: Sale Option was initially contracted August 31, extension announced on October 23 - Counterparty continues to complete steps required relative to their own listing process.  

Battle Mountain Properties: Lower-potential and earlier-stage properties were dropped in September 2023 to further focus the company's investments and work efforts. 
Element79's Core Focus: Lucero Gold-Silver Project
Element79 Gold Corp acquired Lucero, formerly known as the Shila mine, on June 28, 2022. This is a major development for us, because Shila was last operational in 2005, producing over 40,000oz of gold equivalent ("AuEq") every year at an impressive grade of 19.0g/t AuEq.
The current permitting secured allows the Company to extract up to 350 tons of ore per day. We've also fostered good relations with the local community, signing a social contract in September, 2023. Historical data outlines 74 high-grade veins at surface, 19 of which have been historically explored and all past production has come out of just 7 veins.   In addition to the active production and potential for production increases, there also exists a potential for bulk tonnage high-sulphidation gold, as well as deeper copper-gold  porphyry style mineralization..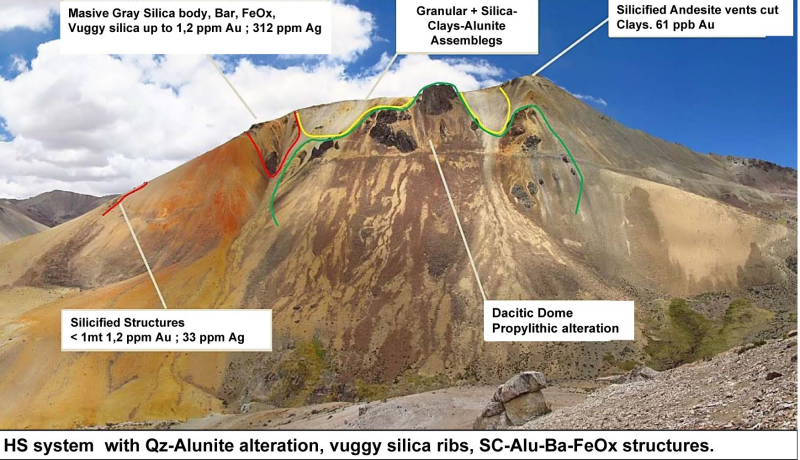 Click Image To View Full Size
Figure 1: Identification of a prospective high-sulphidation target at the Andrea area of Lucero, Arequipa, Peru. Source: Condor Resources
What makes Lucero such an attractive target?
There's a common saying in the mining world: "The best place to find a mine is where there used to be one".  This mine was owned and operated by Minas Buenaventura S.A. (NYSE:BVN) from 1989 to 2005 and historical data indicates the mine had impressive metrics with recoveries of 94.5 % and 85.5 % for gold and silver, respectively.  During the last 5-6 years before the mine was closed (due to economic concerns, which we have gathered through research and conversation that the market price of gold dipped below the cost of production), Lucero's average annual production stood at an impressive 150 tons per day with a 19g/t AuEq grade, yielding 40-50,000oz AuEq per year.  This is a very attractive prospect to put back into production today, where $1800+ gold (and having broken past $2000 recently) drives our vision of bringing production back online in the near term.
Lucero: Current Status
The Community of Chachas, Castilla Province, Arequipa Region, has approved the issuance of a permit to Minas Lucero del Sur S.A.C., our wholly-owned subsidiary, to conduct superficial mining exploration activities, including geological mapping and selective sampling, for a duration of four months, commencing from September 1, 2023, through December 31, 2023.  Monthly work plans are underway and we are re-creating the "lost" historical data sets of both above-ground and underground mapping, sampling and trenching.  This activity will create the data required to generate drill targets and provide much of the information towards PEA/PFS studies in 2024.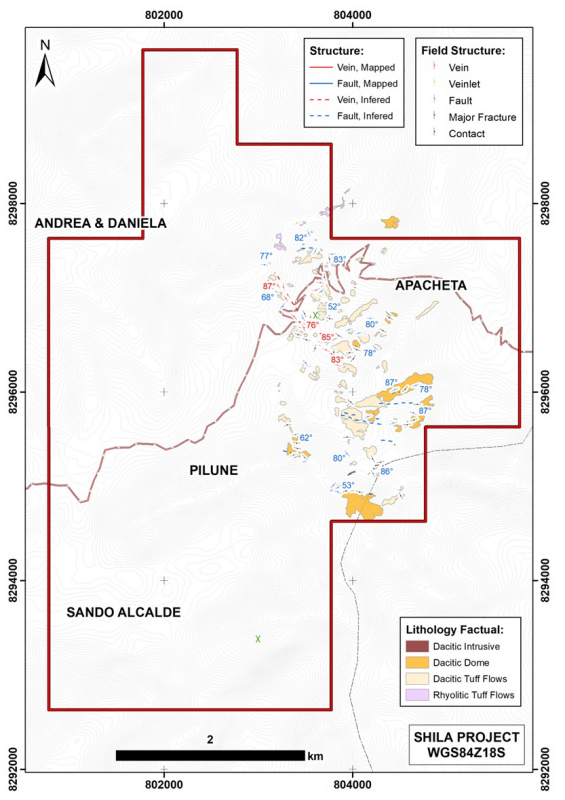 Click Image To View Full Size
Figure 2: Geological Mapping at Lucero project, completed October 2023 for Element79 Gold Corp by Ore Discovery LLC team
Community Involvement
The Company's management team and contractors were present in the Community of Chachas, Peru from October 6-8 for meetings and a formal donation ceremony of 3,000 metres of 8-inch piping was delivered to the community. This initiative underscores the company's commitment to nurturing positive relationships with local communities while upholding the highest standards of environmental and ethical responsibility in its exploration endeavors.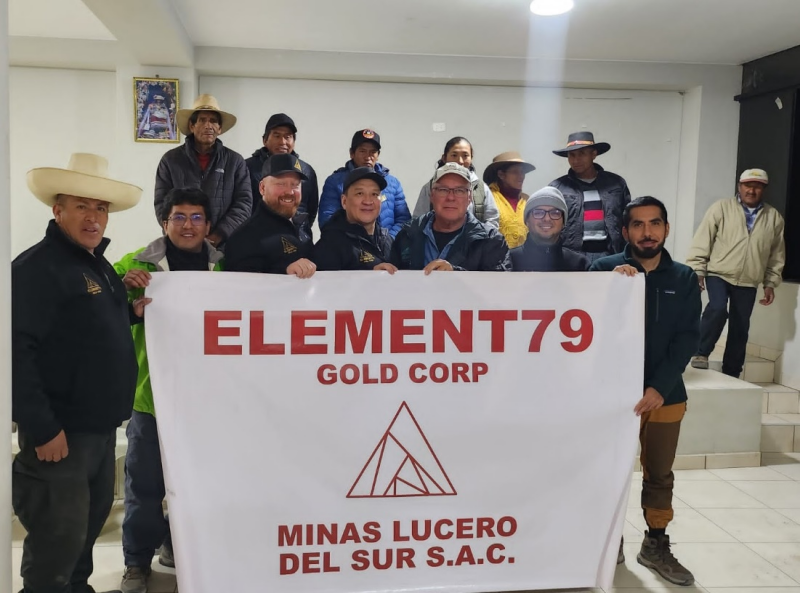 Click Image To View Full Size
Picture 1: Element79 Gold Corp team, Ore Discovery LLC team and Chachas community leaders at community meeting, corporate donation ceremony. Chachas, Arequipa, October 7, 2023
A second similar donation, a delivery of piping, is being planned for the end of the year, with delivery to occur in December 2023. Further updates on this activity will be provided in due course.

Click Image To View Full Size
Picture 2: A shipment of 8" PVC piping donated to the Chachas Community, Peru, October 7, 2023.
Ore Discovery LLC, with a local branch of their operations in Lima, has been engaged as the Company's core geological service contractor to carry out the geological mapping and sampling works onsite.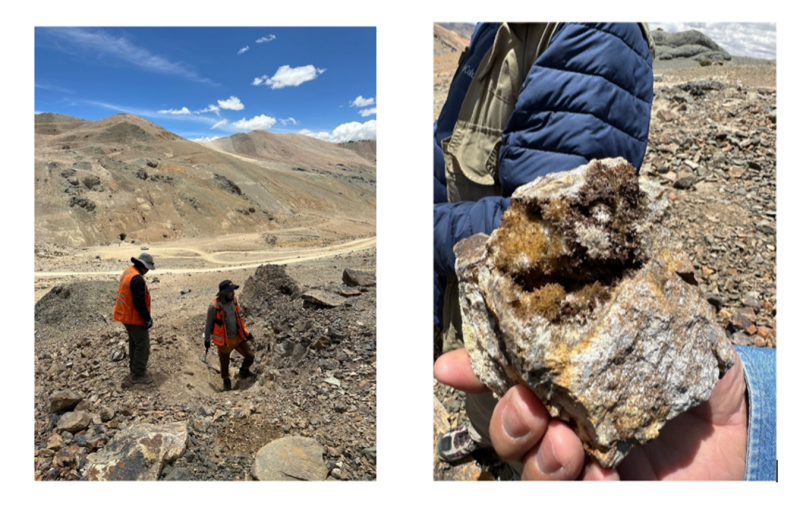 Click Image To View Full Size
Pictures 3 & 4: Lucero Site Visit – Ore Discovery LLC team revisiting extension of Apacheta vein,
where samples have yielded multi-ounce results as reported in March 2023.  October 7, 2023
Optimism Through Current Artisanal Mining Behaviour
There has been a burgeoning growth in production from the local artisanal miners at Lucero: Only a year ago, reports told us that local artisanal miners were producing at a rate of 9-10 tons per week. Fast forward to today, based on our recent observations from our October 2023 trip, that number has soared to an estimated 90-100 tons per week. Our work program in March 2023 yielded significant high-grade samples, which reinforces why they're actively working here, at growing rates.  We believe this reinforces the viability of bringing larger-scale production online.  Element79's management team has created plans for a bulk sampling program to further prove the economic viability of mining the existing veins in 2024 and is in discussions with several regional mills for the potential of process this bulk sample with the additional goal of fostering future toll milling partnerships to bring these high-grade ore to market.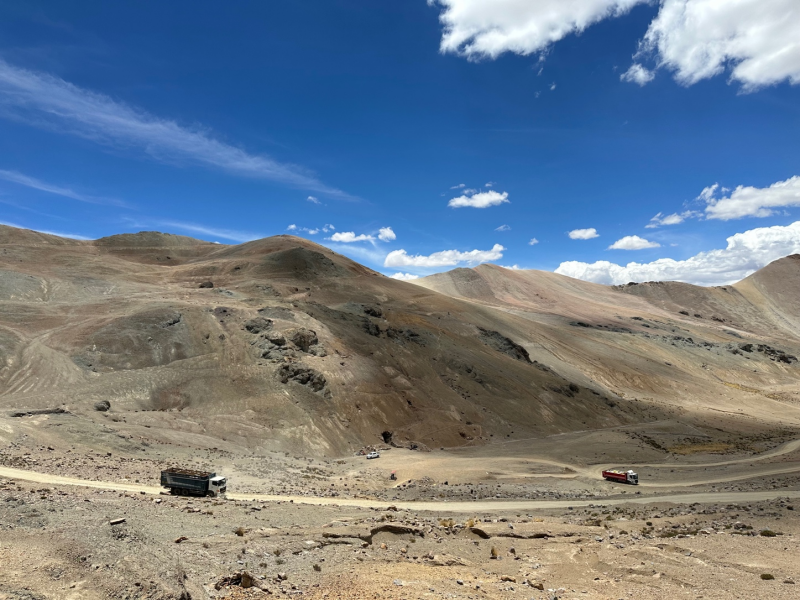 Click Image To View Full Size
Picture 5: Lucero site visit - Apacheta vein – with trucks hauling the week's worth of extracted ore for the local artisanal mining groups.  October 7, 2023
Future Plans at Lucero
The Element79 Gold Corp team has a clear vision for the future. Our short-term goal starting in 2024 involves bulk sampling  and sales to local mills to gain additional knowledge of the deposit as well as generate revenue.  We're also discussing a Letter of Intent for tolling ores at a local full-circuit mill, which currently has additional capacity on top of its day-to-day inflows from other sources.
Further, we acquired Lucero del Sur 28 in June 2023, enhancing our portfolio in Peru. The acquisition boosted our position by 1,200 hectares at Lucero del Sur 28, which is located strategically just east of the high-grade Lucero gold-silver project. Today, additional upcoming strategic asset acquisitions are being actively negotiated.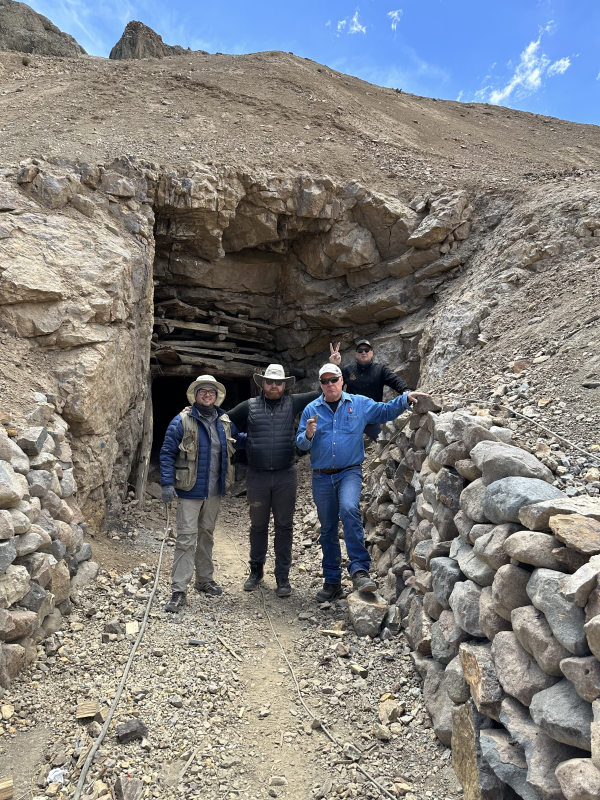 Click Image To View Full Size
Picture 6 – (from L to R) Jose Santos of Ore Discovery LLC, James Tworek, Kim Kirkland and George Tumur of Element79 Gold Corp at the entrance to the Apacheta vein's mine addit, where artisanal miners are actively extracting ore on a weekly basis. October 7, 2023
Looking Ahead
We're thrilled to share that our strategic roadmap for the coming year is robust and filled with promising opportunities. First on the agenda is an advanced drilling program at Lucero based on the data gathered in the 2023 program.  Drilling will be set to commence after the rainy season, around March-April 2024.
Our intent to drill out the existing veins goes beyond merely verifying a Resource: given that Lucero is a past-producing mine and the local artisanal miners are working there today, we are confident that economic resources can be outlined there are Resources present and available for extraction.  As designed by VP Exploration Kim Kirkland, it is our intention that this drill program will also support a Preliminary Economic Assessment (PEA) enabling us to eventually move into Pre-Feasibility Studies (PFS). These are important, confidence-building steps in the trajectory towards sustainable production.  
This focused approach enables us to leverage our team strengths, cultivate lasting community relationships, and most crucially, amplify mutual benefits and profitability for all stakeholders involved.
We are also reviewing multiple ways to bring production and cash flow generation in the near term, through working with the local community and the local artisanal miners; designing our bulk-sampling program and sourcing offtake agreements with local and national-level mills; through developing our own plans for eventually building a mill on site. We are excited to provide updates on this as developments unfold.
As we look toward the future, our confidence in Element79 Gold Corp's growth prospects and operational excellence has never been stronger. We're committed to executing our strategy with precision, all while upholding the highest standards of environmental and ethical responsibility.
Thank you for your continued support and stay tuned for what promises to be an exciting and transformative journey ahead!
James C. Tworek
CEO, Director
Element79 Gold Corp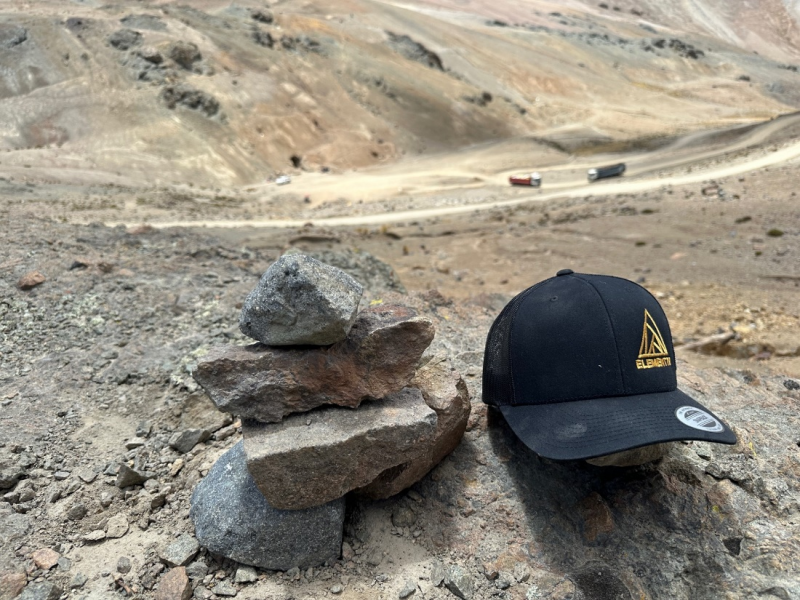 Click Image To View Full Size
Picture 7 – Lucero Site Visit – Element79 Gold Corp hat beside an Apacheta (waymarker, or milestone simliar to Inukshuk in Canada) built by CEO & Director James Tworek, on a peak at the Lucero mine complex overlooking the Apacheta vein, simbolizing "we'll be back".
+++
Qualified Person
The technical information in this release has been reviewed and verified by Neil Pettigrew, M.Sc., P. Geo., Director of Element79 Gold and a "qualified person" as defined by National Instrument 43-101.
About Element79 Gold Corp.
Element79 Gold is a mining company focused on gold and silver committed to maximizing shareholder value through responsible mining practices and sustainable development of its projects.  Element79 Gold's focus is on developing its past-producing, high-grade gold and silver mine, the Lucero project located in Arequipa, Peru, with the intent to restart production in the near term.
The Company also holds a portfolio of 5 properties along the Battle Mountain trend in Nevada, with the Clover and West Whistler projects believed to have significant potential for near-term resource development. Three properties in the Battle Mountain Portfolio are under contract for sale to Valdo Minerals Ltd., with an anticipated closing date around the end of 2023.  The Company has also signed an Option Agreement to sell the Maverick Springs project, an advanced-stage exploratory property with an Inferred Resource of 3.71MMoz AuEq (1.37MMoz Au and 175MMoz Ag) and anticipates completing this sale on or before March 28, 2024.  
In British Columbia, Element79 Gold has executed a Letter of Intent and funded a drilling program to acquire a private company that holds the option to 100% interest of the Snowbird High-Grade Gold Project, which consists of 10 mineral claims located in Central British Columbia, approximately 20km west of Fort St. James.
The Company has an option to acquire a 100% interest in the Dale Property, 90 unpatented mining claims located approximately 100 km southwest of Timmins, Ontario, and has recently announced that it has transferred this project to its wholly-owned subsidiary, Synergy Metals Corp, and is advancing through the Plan of Arrangement spin-out process through the rest of 2023.
For more information about the Company, please visit www.element79.gold
Contact Information
For corporate matters, please contact:
James C. Tworek, Chief Executive Officer E-mail: jt@element79gold.com
For investor relations inquiries, please contact:
Investor Relations Department
Phone: +1.613.879.9387
E-mail: investors@element79.gold
Cautionary Note Regarding Forward Looking Statements
This press release contains "forward‐looking information" and "forward-looking statements" under applicable securities laws (collectively, "forward‐looking statements"). These statements relate to future events or the Company's future performance, business prospects or opportunities that are based on forecasts of future results, estimates of amounts not yet determinable and assumptions of management made in light of management's experience and perception of historical trends, current conditions and expected future developments. Forward-looking statements include, but are not limited to, statements with respect to: the Company's business strategy; future planning processes; exploration activities; the timing and result of exploration activities; capital projects and exploration activities and the possible results thereof; acquisition opportunities; and the impact of acquisitions, if any, on the Company. Assumptions may prove to be incorrect and actual results may differ materially from those anticipated. Consequently, forward-looking statements cannot be guaranteed. As such, investors are cautioned not to place undue reliance upon forward-looking statements as there can be no assurance that the plans, assumptions or expectations upon which they are placed will occur. All statements other than statements of historical fact may be forward‐looking statements. Any statements that express or involve discussions with respect to predictions, expectations, beliefs, plans, projections, objectives or future events or performance (often, but not always, using words or phrases such as "seek", "anticipate", "plan", "continue", "estimate", "expect", "may", "will", "project", "predict", "forecast", "potential", "target", "intend", "could", "might", "should", "believe" and similar expressions) are not statements of historical fact and may be "forward‐looking statements".
Actual results may vary from forward-looking statements. Forward-looking statements are subject to known and unknown risks, uncertainties and other factors that may cause actual results to materially differ from those expressed or implied by such forward-looking statements, including but not limited to: risks related to the integration of acquisitions; actual results of exploration activities; conclusions of economic evaluations; changes in project parameters as plans continue to be refined; commodity prices; variations in ore reserves, grade or recovery rates; actual performance of plant, equipment or processes relative to specifications and expectations; accidents; labour relations; relations with local communities; changes in national or local governments; changes in applicable legislation or application thereof; delays in obtaining approvals or financing or in the completion of development or construction activities; exchange rate fluctuations; requirements for additional capital; government regulation; environmental risks; reclamation expenses; outcomes of pending litigation; limitations on insurance coverage as well as those factors discussed in the Company's other public disclosure documents, available on www.sedarplus.com. Although the Company has attempted to identify important factors that could cause actual results to differ materially from those contained in forward-looking statements, there may be other factors that cause results not to be as anticipated, estimated or intended. The Company believes that the expectations reflected in these forward‐looking statements are reasonable, but no assurance can be given that these expectations will prove to be correct and such forward‐looking statements included herein should not be unduly relied upon. These statements speak only as of the date hereof. The Company does not intend, and does not assume any obligation, to update these forward-looking statements, except as required by applicable laws.
Neither the Canadian Securities Exchange nor the Market Regulator (as that term is defined in the policies of the Canadian Securities Exchange) accepts responsibility for the adequacy or accuracy of this release.