Alpine Riding is Redefining the Electric Bike/Scooter Market with their new Crossover Design, The A-Ride
VANCOUVER, British Columbia, Canada – TheNewswire - May 13, 2020 — Whistler company, Alpine Riding, has created the A-RIDE, the most badass e-scooter ever invented. The innovative A-RIDE is an electric bike/scooter crossover with industry leading performance designed to make the experience of riding on two wheels - both on and off the road - fun, safe and accessible for everybody. It's another way to ride.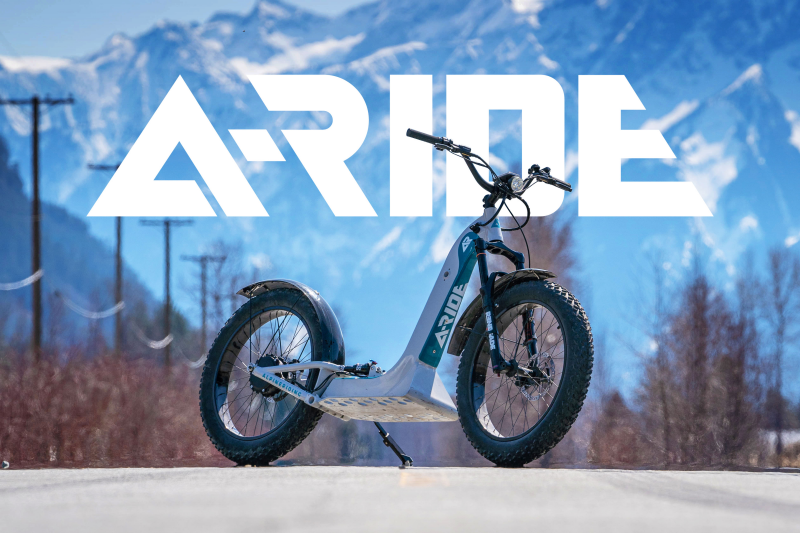 Click Image To View Full Size
In less than a week, the company's Indiegogo campaign has raised over 304% of their funding goal. For a limited time, the A-RIDE can be purchased for USD$2700.
Electric bikes on the market with the same high-end features as the A-RIDE, are often sold at much higher price points, according to the company's Founder and CEO, Audric Lacour.
"Our focus is on a high-end product, quality parts and the fact that the A-RIDE is the ONLY electric bike/e-scooter (or even vehicle, for that matter!) you will need to buy. It's built to last. It's an all-in-one. It goes from your weekday reliable commuter to weekend warrior fun. And get ready to turn a lot of heads by being the first to drive the A-RIDE around town," said Lacour.
What Makes the A-RIDE Different?
Traveling a legal speed of 20mph (with a programmable speed of 35mph for off-road and private land use), and 50 miles per charge (fully charged in under 5 hours), A-RIDE uses a high capacity 1000Wh custom battery with Panasonic cells, 1000W geared hub motor and ASI controller BAC800 resulting in superior torque and performance with incredible speeds. Riders experience longer run times and faster acceleration as a result of the high-end electric drive components.
The dual-suspension design provides A-RIDE with 120mm travel front and back. Its 24" all-terrain fat tires and high quality 6061 aluminum frame lets A-RIDE climb up to 30% grades and take on asphalt, snow, sand, and the roughest trails with ease.

Accessories include a rear rack, box/basket, surfboard rack and kid handlebars, so your youngster can ride with you.
"You have a low centre of gravity on an A-RIDE. This gives you more balance and stability. It's made for everyone," says Lacour. "After two years of testing in all weather and conditions in Whistler, we have landed on a robust design that makes for a safe, fast, adrenaline-packed and controlled ride over anything else on the market — the ultimate joy ride AND versatile year round commuter! It's another way to ride."
The Indiegogo campaign ends June 5th and then purchase price of the A-RIDE will be USD$4300.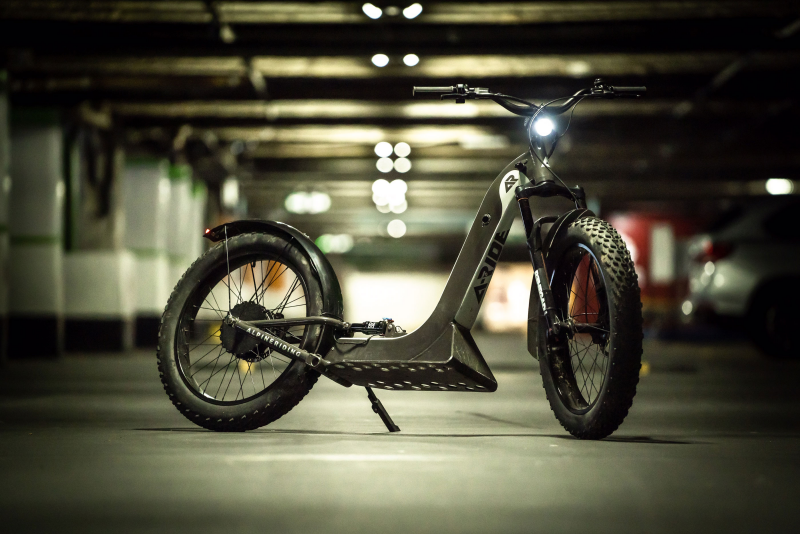 Click Image To View Full Size
ABOUT ALPINE RIDING
Alpine Riding created the A-RIDE to designed to make the experience of riding on two wheels - both on and off the road - fun, safe and accessible for everyone.
Following the vision and design of Founder and CEO, Audric Lacour, the company developed this sleek and reliable E-Scooter. Engineered by a former Apple product engineer and utilizing Audric's 16 years of development expertise in the scooter industry and his background as a pro mountain biker in the French Alps, the A-RIDE was born.

Whether you're commuting or exploring your backyard's trails, A-RIDE provides a paramount riding experience. It's a versatile crossover to take you from weekday reliable commuter to weekend warrior fun!
The goal was to create an E-Scooter/ E-Bike crossover, setting a new industry standard. The A-RIDE can shred trails AND be great for commuting, creating another way to ride for every age and every skill level.
Because of its power and design, the utilitarian side of the A-RIDE is a perfect fit for delivery services, resorts, wineries, golf courses, large properties or farms, and tour companies. The A-RIDE steps it up as a fleet vehicle for any sector, public or private.
The A-RIDE also adds up to a big win for the environment, helping you cut down on your carbon footprint.
Go grocery shopping, take your kids to school using the kid handlebars or easily towing a trailer, go out for dinner, or just have a blast coasting through town or through mountains. The possibilities with A-RIDE are endless!
We dare you not to smile while riding it.
Press Release Contact Information:
Audric Lacour, Founder & CEO, Alpine Riding (A-RIDE)
T: +1.604.906.1830 
audric@alpineriding.com
https://a-ride.com/
Instagram: https://www.instagram.com/alpineriding/
Facebook: https://www.facebook.com/alpineriding/
Twitter: https://www.twitter.com/alpineriding/
Indiegogo: https://igg.me/at/a-ride