Cascadia Air begins scheduled direct flights to Penticton from Vancouver International South Terminal Airport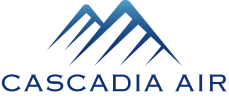 Vancouver, British Columbia – TheNewswire - September 2, 2021 - Cascadia Airways Inc. (the "Cascadia Air") is pleased to announce direct non-stop scheduled flights to and from Penticton Airport (YYF) and Vancouver International Airport South Terminal (YVR). Cascadia Air uses smaller twin-engine aircraft with seating currently spaced to a maximum of 6 passengers to provide additional social distancing between passengers while increasing the comfort of their travel experience.
"Our residents and visitors love the convenience of flying direct to Penticton and our business community relies on it. The City has made promoting the airport a priority for our economic development and it is great to see the services not only return to normal but expand. We are thrilled that Cascadia Air is increasing the options available to travelers and Council wishes them great success with their new service to our community." said Mayor John Vassilaki City of Penticton.
Cascadia Air offers direct flights to Penticton throughout the week and weekends on a limited scheduled basis until it determines consumer interest to warrant adding more schedules and larger aircraft tailored to the consumer demand from this region.
"We are thankful for our partnership with the City of Penticton. Since the pandemic, our focus was to build strong community partnerships with our destinations. This also meant participating however we can, in the economic development of those communities, and to extend the relationship beyond just another air service provider in their area." says Jeremy Barrett, President & COO of Cascadia Air.
About Cascadia Airways Inc.
Cascadia Airways Inc. (Cascadia Air) is a small commuter airline new to the Province of British Columbia. Cascadia Air obtained its operating certificate to conduct scheduled services in February of 2020, at the beginning of the pandemic. Cascadia Air pursued economic development partnerships and provided flights for essential services throughout Vancouver Island and Haida Gwaii instead of reducing its newly formed operations or retracting from its business.
As economic revitalization becomes a priority for most regions impacted by the pandemic, community partnerships it developed have become strong partnerships for its current and future services. Cascadia Air plans to introduce more service routes in 2021 and 2022, which were developed during the height of pandemic restrictions. Cascadia Air focuses on delivering "customer-first" services and other consumer-friendly offerings above and beyond other traditional airlines of its class. Also, as a priority, Cascadia Air continues its commitment to building hands-on relationships and strong economic development partnerships with communities across British Columbia.
For additional information, please visit www.cascadiaair.com
Alene Stolle, Customer Relations
Cascadia Northern Air Inc.
Cascadia Airways Inc.
1.888.607.0055 Ext 405
830AM – 430PM PST.
This Press Release may contain forward-looking statements, which reflect the views of Cascadia Airways Inc. Forward-looking statements can be identified by reference to words such as "believe", "expect", potential", "continue", "anticipate", "may", "might", "will", "should", "seek", "approximately", "predict", "intend", "plan", "estimate", "anticipate" or other comparable words. Investments in distressed organizations, restructurings, or highly regulated industry sectors are highly speculative, and forward-looking statements are subject to various risks, uncertainties, and assumptions. Should any assumption underlying forward-looking statements contained herein prove incorrect, the actual outcome or results may differ materially from outcomes or results projected.
No parties make any representations or warranties, expressed or implied, as to the accuracy and completeness of any information contained herein. Any prospective professional services or financial participants should obtain additional information as necessary concerning the Proposed Transaction.