ESGold Files Preliminary Economic Assessment Report for the Montauban Project Located in Quebec, Canada
Preliminary Economic Assessment Shows a 42.6% Pre-Tax IRR, C$ 14.08M Pre-Tax NPV5% And Less Than Two Years Payback
Vancouver, BC - April 14, 2023 - ESGold Corp. ("ESGold" or the "Company") (CSE:ESAU) (Frankfurt:N2W) (OTC:SEKZF) is pleased to announce that it has filed on SEDAR the NI 43-101 Technical Report on Mineral Resource Estimate and Preliminary Economic Assessment of the Montauban Gold Project, ("PEA") located  at Notre-Dame-de-Montauban, Quebec.  The results of the PEA were previously announced in the Company's news release dated March 2, 2023.  A copy of the PEA is also located on the Company's website https://esgold.com/operations/Montauban
The mineral claims comprising the Montauban property (the "Property") are located in southern Quebec, 120 km west of Québec City and 80 km northeast of Trois-Rivières, and straddle the border of the Mauricie and Capitale-Nationale Administrative Regions of Quebec. The PEA presents a positive tailings reprocessing operation with very attractive economics, and sets the table for the rejuvenation of Montauban-les-mines with the proactive remediation of the legacy mine tailings. The PEA comprises the first cornerstone of ESGold's strategy to revive the area's 100 year mining history.
PEA Highlights:
Pre-tax net present value (NPV) (discount rate 5%) of C$ 14.08M, internal rate of return (IRR) of 42.6% and payback of less than 2 years; 

After-tax NPV (discount rate 5%) of C$ 6.99M, IRR of 23.4% and payback of less than 2 years 

Assumed gold (Au) price $1750US/Oz, silver (Ag) price $21US/Oz and mica concentrate price $200US/t with a CAD/USD exchange rate of 1.35; 

4 years of mine life with 923,000 tonnes of tailings at 0.41 g/t Au 33.34 g/t Ag and the recovery of 57,187t of mica; 

Revenue of C$ 62.2M; 

Life of Mine capital of C$ 17.04M; 

Operation cost per tonne of tailings at C$ 29 
Jean Yves Therien, CEO & Director, "The PEA clearly demonstrates the low cost and positive return of the Montauban reprocessing / remediation project using a traditional excavation and reprocessing scenario, which includes pulping, pumping, gravity separation, cyanidation for gold/silver recovery with Merryl Crow. The stabilization of the orphan tailings at Montauban includes the addition of limestone from the nearby St-Marc des Carrières quarry. The Company intends on cleaning the area and delivering a secured non-acid generating tailings pond. The various tailings have unique topography and are not saturated, which makes them amenable to rapid development and extraction. The Company will also recover a portion of the coarse micas during processing. We are in a good position, as we are permitted and have an approved reclamation plan.
The positive results of the PEA will allow us to seek financing for the completion of the mill, the construction of the new tailings pond and submission of the Bond for the reclamation plan.
 The Property also hosts an historical underground hard-rock resource prepared by Mr. J. Marchand in 2003, which is not considered current by the Company. The 2003 technical report describes two surface blocks: one identified as the south block with 114,473 tons at 6.1 g/t Au and 94 g/t Ag — equivalent to 22,281 ounces of gold and 347,086 ounces of silver — and a north block with 274,500 tons grading 2.8 g/t Au and 15.0 g/t Ag — corresponding to 24,917 ounces of gold and 133,912 ounces of silver. It is also our goal to exploit these hard rock historical mineral resources, which will need additional work to comply with current NI 43-101 standards. Two underground sectors drilled in 2010 and 2011 are identified for potential near-surface bulk sampling. The Company has yet to apply for permitting to extract these short-term complementary potential mineral resources. We also intend to further explore the Property, as it is the first time that most of the key territory is owned by a single exploration company. This offers us tremendous potential and room for expansion from an exploration perspective.
In short, we are not there for only four years. We will develop the camp in a manner that will respect of all stakeholders around our milling facility, but our priority is to reclaim the legacy tailings and restore the heydays of mining at Montauban."  
PEA Overview, Description and Location
The Property as of today comprises a contiguous block of 76 claims covering 2,360.2 ha or 23.6 km2, and is underlain by rocks of the Grenville Province, which borders the southeast part of the Canadian Shield. There are five (5) principal tailings sites on the Property (Anacon Lead 1, Anacon Lead 2, Tetreault 1, Tetreault 2 and the Notre-Dame-de-Montauban tailings – see Figures 1 & 2) that were generated during the processing of ore from the historic underground Montauban Mine, which hosted a gold-rich VMS deposit.
From 1911 to 1955, a total of 2,655,588 short tons of massive-sulphide ore grading 4.53% Zn, 1.54% Pb, 0.69 g/t Au, and 85.7 g/t Ag was mined from the Tétreault-Anacon Mine, and 102,000 short tons grading 2.88% Zn, 1.03% Pb and 34.3 g/t Ag of massive-sulphide ore was extracted from the Montauban Mine from 1953 to 1954 (Montauban Zone). Marginal to the massive-sulphide ore were two zones (north and south), where small volumes of Au–Ag mineralization were processed. From 1983 to 1987, a total of 330,830 metric tons of ore, grading 4.27 g/t Au and 12.45 g/t Ag, was extracted from the North Gold Mine, and another 225,433 metric tons, grading 3.70 g/t Au and 72.37 g/t Ag, was extracted from the South Gold Mine between 1987 and 1990.
Now the project calls for the excavation and pumping of tailings material to the mill for recovery of coarse micas into a sellable concentrate, followed by regrinding prior to cyanidation with recovery by Merryl Crow process to allow production of dore bars.
As per discussions with the municipality, a formal agreement was signed and a royalty of 1% will be paid to the municipality.
The PEA considers a conventional truck and shovel sand pit operation with the exception of having a pumping box where the tailings will be mixed with water and pumped to the mill, reducing the consumption of fuel and required equipment for the Project. In short, the mineralized material is excavated and will be discharged on grizzly, then put in slurry and pumped to the mill. The mill will be in operation full time over nine months of the year (April-December).
The PEA is based on the mineral resource estimate presented in a Technical Report titled "NI 43-101 Technical Report: Mineral Resource Estimate and Preliminary Economic Assessment of the Montauban Gold Project, Quebec" dated March 1, 2023 and prepared by JPL GeoServices, Edmond St-Jean Eng., Groupe Alphard, and GoldMinds Geoservices Inc. ("GMG") of Quebec City, Quebec, Canada.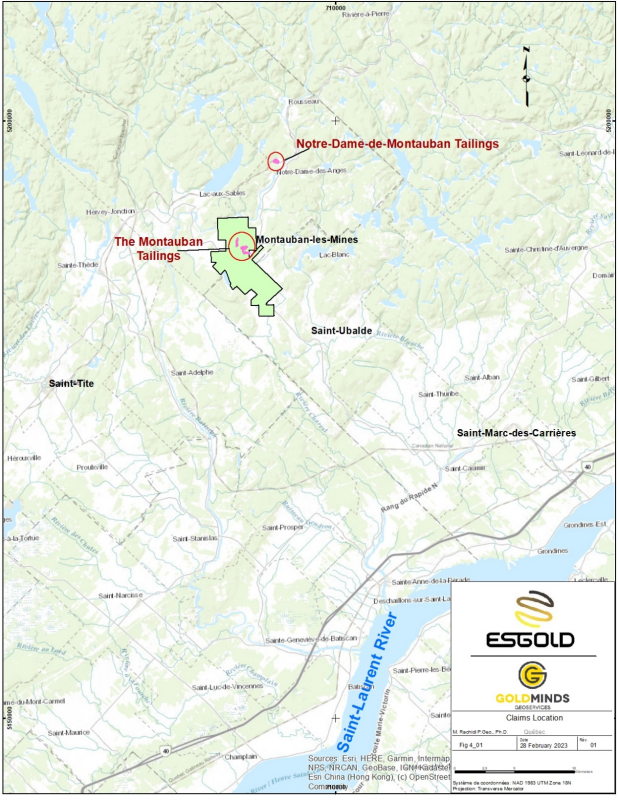 Click Image To View Full Size 
Figure 1: Property location (outlined) as at February 28, 2023.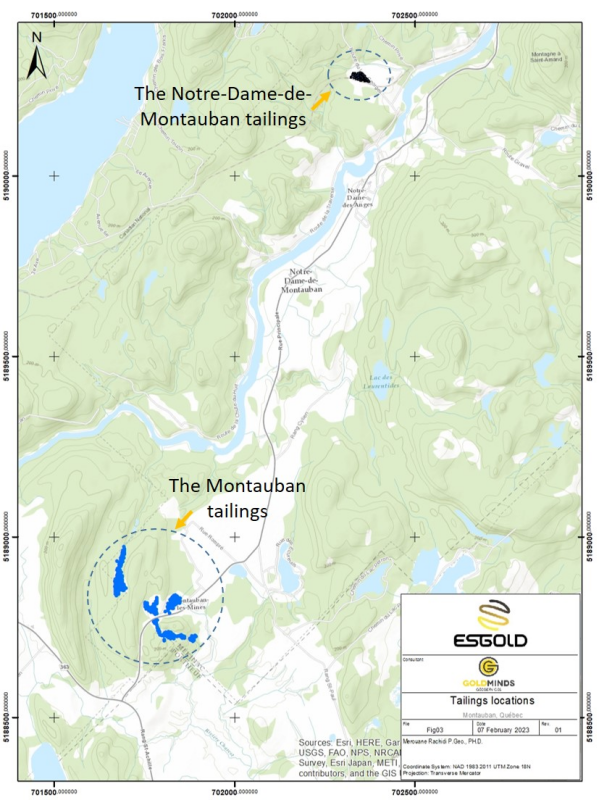 Click Image To View Full Size
Figure 2: Project tailings site locations
Mineral Resources Estimate
The Mineral Resource Estimate (MRE) for the Montauban tailings project is based on historical data and recent (2022) SONIC drilling data provided by the ESGold in Excel spreadsheets, as well as the sampling program completed on the Notre-Dame-de-Montauban tailings in November 2022.
The drill hole database contained 352 valid drill hole collars, with a total meterage of 1,654.04 m and 1,170 assay intervals totaling 1,498.05 m. For the Notre-Dame-de-Montauban tailings a total of 35 test pits and trenches totaling 77.44 m were excavated. A total of 112 samples (including Blanks and Standards) were collected and sent to SGS laboratory in Quebec City for Au, Ag and multi-element analysis.
As part of the MRE process, the Company and GoldMinds compiled, verified and modelled all technical information available from the Montauban and the Notre-Dame-de-Montauban tailings. A total of five wireframes were created by digitizing the mineralised intercepts on sections. A total of five block models were created.
Estimated mineral resources for the Montauban and the Notre-Dame-de-Montauban tailings indicated resources are 7,800 Au ounces and 610,350 Ag ounces (603,700 tonnes grading 0.4 g/t Au and 31.4 g/t Ag), inferred resources are 4,200 ounces gold and 379,100 ounces silver (319,300 tonnes grading 0.41 g/t Au and 36.9 g/t Ag), (Table 1).
It is important to inform the reader that most of the tailings in the MRE are secured under agreements between ESGold and the surface landowners. By mining law in the province of Quebec, the owner of the surface right land is also owner of the material deposited on its land.
Table 1: The mineral resources estimation for the Montauban and the Notre-Dame-de-Montauban tailings
| | | | | | | | |
| --- | --- | --- | --- | --- | --- | --- | --- |
| Montauban tailings | Au (g/t) | Ag (g/t) | AuEq (g/t) | Tonnes | Au Oz | Ag Oz | AuOz eq |
| Indicated | 0.40 | 31 | 0.78 | 603 700 | 7 800 | 610 350 | 15 000 |
| Inferred | 0.34 | 28 | 0.67 | 292 000 | 3 150 | 258 900 | 6 400 |
|   |   |   |   |   |   |   |   |
| Notre-Dame-de-Montauban tailings | Au (g/t) | Ag (g/t) | AuEq (g/t) | Tonnes | Au Oz | Ag Oz | AuOz eq |
| Inferred | 1.21 | 137 | 2.84 | 27 300 | 1 050 | 120 200 | 2 500 |
|   |   |   |   |   |   |   |   |
| Total Indicated | 0.40 | 31.45 | 0.77 | 603 700 | 7 800 | 610 350 | 15 000 |
| Total Inferred | 0.41 | 36.93 | 0.87 | 319 300 | 4 200 | 379 100 | 8 900 |
Notes:
The Mineral Resources provided in this table were estimated by M. Rachidi P.Geo., and C. Duplessis, Eng., (QPs) of GoldMinds Geoservices Inc., using current Canadian Institute of Mining, Metallurgy and Petroleum (CIM) Standards on Mineral Resources and Reserves, Definitions and Guidelines. 

Mineral Resources which are not Mineral Reserves do not have demonstrated economic viability. The estimate of Mineral Resources may be materially affected by environmental, permitting, legal, title, market or other relevant issues. The quantity and grade of reported Inferred Mineral Resources are uncertain in nature and there has not been sufficient work to define these Inferred Mineral Resources as indicated or Measured Mineral Resources. There is no certainty that any part of a Mineral Resource will ever be converted into Mineral Reserves. 

The database used for this mineral estimate includes drill results obtained from 2010, 2018 and 2022 drill programs as well as the 2022 exploration works. 

For the Montauban tailings (Anacon Lead 1, Tetreault 1, Anacon Lead 2 Tetreault 2) the mineral resource presented here were estimated with a block size of 3mE x 3mN x 1.5mZ. The blocks were interpolated from equal length composites (1.5 metre) calculated from the mineralized intervals. Prior to compositing, high-grade gold assays were capped to 3 g/t Au and 125 g/t Ag. The mineral estimation was completed using the inverse distance to the square methodology utilizing three passes. For pass 1 and pass 2 minimum of 2 composites and maximum of 05 composites with a maximum of 1 composites from the same drillhole (a minimum of two drillholes are needed to estimate blocks). For pass 3 minimum of 2 composites and maximum of 5 composites were used. The Indicated resources classified using a minimum of two drillholes within 20 m of each other or less were used. The inferred resources were classified by a minimum of two drillholes within 50m of each other or less. Tonnage estimates are based on a fix density of 1.52 tonnes per cubic metre. 

For the Notre-Dame-De-Montauban tailings the mineral resource were estimated with a block size of 0.5mE x 0.5mN x 0.5mZ. The blocks were interpolated using central composites calculated from the mineralized intervals. Prior to compositing, assays were not capped. The mineral estimation was completed using the polygon method. The resources classified as inferred and the tonnage estimates are based on a fix density of 1.5 tonnes per cubic metre. 

The commodity prices showed in the table below. The formula used for AuEq calculation: AuEq= ((Au x 75.96) +(Ag x 0.91))/(2362.5/31.103). The Mineral resources are in-situ and the recovery values are not used.  

Tonnages and AuEq oz in the table above are rounded to nearest hundred. Numbers may not total due to rounding 
To estimate the micas concentrations in the Montauban tailings we took the hole samples from Anacon Lead 1 (6 holes) and from Tetreault 2 (3 holes). A total of 32 tailings samples from 9 different holes were sent to SGS laboratory in Quebec City for mica test separation.
| | | | |
| --- | --- | --- | --- |
|   | Micas (%) | Tonnes | Micas (t) |
| Indicated Micas Tetreault_2 | 4 | 116 800 | 4 700 |
| Total Micas Indicated | 4 | 116 800 | 4 700 |
| Inferred Micas AL1 | 9 | 571 900 | 51 500 |
| Inferred Micas Tetreault_2 | 4 | 26 100 | 1 000 |
| Total Micas Inferred | 8,8 | 598 000 | 52 500 |
Mr. Paul Mastantuono COO & Director continued "The PEA focuses on the precious metals and mica resource from four identified tailings. Additionally, the property hosts multiple precious metal bearing tailing sites that have yet to be drill-tested and fully explored. Our vision of the Montauban project is two-fold, extraction of precious metals and silicate minerals (Mica), and the usage of the processed 'clean' residue to produce construction building materials.  ESGold's new process will create, through the application of an organic polymer high-quality, sturdy and economical building products including, cinder blocks, bricks, paving stone, parking columns and highway jersey barriers used to define traffic lanes. The project as a whole has been designed to employ the best standard operating practices to significantly reduce the company's environmental footprint."
Mining & Processing
The operation is to bring the material from the tailings pile to the pump box near to the processing plant. The project is to feed 270,000 t of tailings to the plant for the first 3 years and 113,000t for the fourth year of operation for a total of 923,000 metric tonnes. The contractor at mining operation will operate on a 9-month operation basis to avoid freezing temperatures.
There will be no need for drilling and blasting as the material is already of screen size. The material will be picked up by a shovel (Cat 336 size type) or a loader (Cat 966 size type). The hauling work can be done by a single articulated truck (Cat 730 size type) with a capacity of 14 cubic meters and a second truck will be available on site as backup. The truck will unload near to the pump box (plumper) and a loader will feed the plumper. At short distance the excavator will discharge directly on the grizzly at the pump box. The work will be contracted out on a 24 hour/7-day basis.
At the beginning of the initial production as the pile is close to the plant, a wheel loader could be used on the pile to load the truck and the same loader could load the plumper by driving down to the plant. After a while, the wheel loader will not be able to do both and a shovel should be brought to the pile to do the work. Limited power is needed on the pile for the pump box and a lighting system will be installed on the pile near the tailing is mixed into slurry in the pump box.
Supporting on-site infrastructure will include a small administrative building, warehouse, fuel tank, spare generators and several 40-foot steel containers for material storage. Employees will be lodged nearby, no need for a logging camp.
The most efficient tests include the following steps: sieving the feed to 100 Mesh, the coarse fraction goes to the Humphrey spiral which separates the sample into light, intermediate and heavy fractions. The intermediate fraction is passed three times through Humphrey's spiral and the light fraction is passed one last time trough Humphrey's spiral. This method produces a mica concentrate with a mass pull varying from 4 to 9 %. The remaining material is ground and fed into the cyanidation tank for 48 hours with 3 grams of sodium cyanide, zinc power is used for the cement which is thereafter melted to produce the bars. The average recovery for gold is 92% and 77% for silver. A detailed flowsheet will be supplied in the technical report.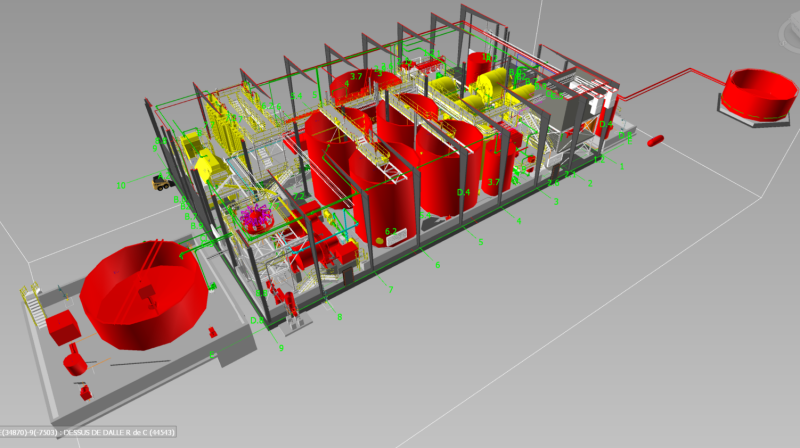 Click Image To View Full Size
Isometric view looking south of the designed mill by Groupe Alphard based on Edmond St-Jean flow-sheet.
Environment, Permitting and Social
It is of public knowledge that the Montauban region has a high environmental legacy of contamination by historical tailings and it is the objective of ESGold to correct the situation by removing as much tailings as possible from these lands and stabilize them into a new tailings.
The company is fully permitted with its Certificate of Authorization and approved reclamation plan for Anacon Lead 1 i.e. for its mill and most of its tailings tonnage. It is important to mention that the Municipality has approached the company and requested the removal of the tailings adjacent to the track and its inclusion into the plan. The company is in close collaboration with the Municipality and the Ministry of Environment. The company will probably add the Montauban United (where historical and tailings dam failure occurred in the past) and the overflow of the Tetreault tailings eventually.  
The community is supportive of the project as it will remove tailings and creates jobs and local opportunities.
Capital Costs
The PEA is based on a capital cost summary, in accordance with AACE Class 5 guidelines with an estimated accuracy of +/- 30%, which is shown in the table below: 
| | |
| --- | --- |
| | Cost – CA$ |
| Mine capital costs | 450,000 |
| Plant Equipment+Installation | 7 860,000 |
| Infrastructure capital costs | 2 018,500 |
| Closure costs | 1 150,000 |
| Contingency (30%) | 3 443,500 |
| Owner costs (5%) | 574,000 |
| EPCM costs (5%) | 574,000 |
|   |   |
| Total initial capex(rounded) | 16 070,000 |
*Numbers rounded
A required working capital estimated at $1 761 200 is required and should be added to the required capex.
Operating Costs
Mine operating costs by activity area are shown in the table below.
Table 2: Operating costs detailed
Cost

Cost

CA$

CA$/t tailings mined

Mine operating costs

4,153,500

4.50

Processing costs

20,049,400

21.72

G&A

2,889,800

3.13

Total

27,092,700

29.40
*Numbers may not add due to rounding
Economic Model
The main assumptions for the economic analysis and the results are summarized in the following tables:
Table 3: Main assumptions of Economic Analysis
| | | |
| --- | --- | --- |
| Items | Units | Values |
| Micas concentrate | US$/mt | 200 |
| Gold selling price | US$/oz | 1 750 |
| Silver selling price | US$/oz | 21 |
| Mining (mineralized tailings) tonnage over LOM | metric tonne | 923,000 |
| Royalty on sales | % | 1.00 |
| Federal tax | % | 15.00 |
| Provincial tax | % | 11.50 |
| Mining tax | % | 16.00 |
Table 4: Base Case economics
Items

 

Value

CA$

Total revenue of sales

62,207,000

Total operating costs

27,093,000

Before-tax discounted

(5.0%) NPV

14,079,000

After-tax discounted

(5.0%) NPV

6,992,000
*Numbers rounded
Table 5: Detailed Cash flow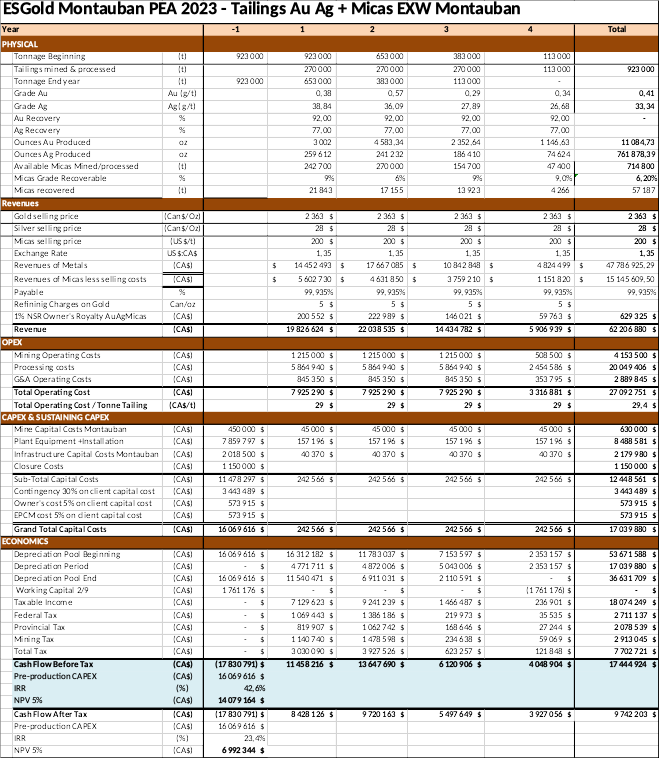 Note NI-43-101: there is no Ore in this project for the moment as it requires either a prefeasibility or feasibility study to define Ore and this PEA uses mineral resources partially classified as Inferred which is not used in the preparation of mineral reserves.
Figure 4. Sensitivity of NPV5 for the Base Case before taxes.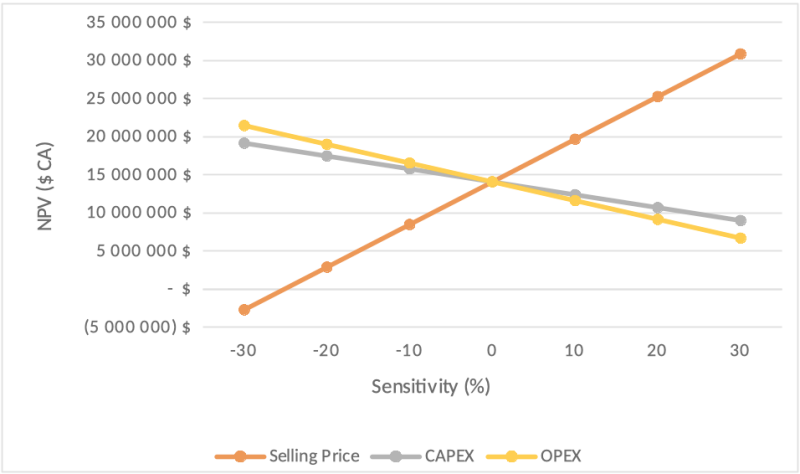 Click Image To View Full Size
Figure 5. Sensitivity of IRR for the Base Case before taxes.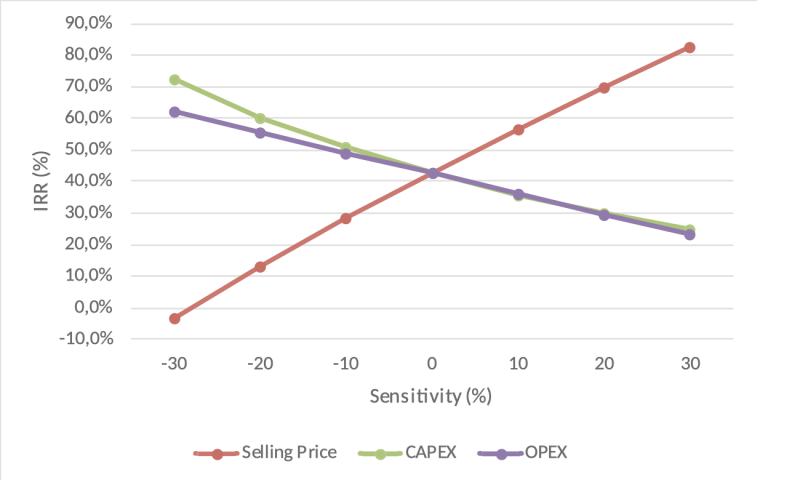 Click Image To View Full Size
Additional information is provided in the Technical report.
Recommendations and Opportunities
The following opportunities have been identified as potential enhancements for the Montauban project. These opportunities could have material value-added impact on the project although additional work is required for them to be integrated.
The current tailings resource estimate outlines only a proportion of the tailings that should be expected in the project area according to historical production records.  

The project land package hosts historical resources in hard rock that are non-compliant with NI 43-101 standards.  

The project also hosts greenfield exploration potential as modern exploration techniques have not been systematically applied over the property.  

Toll milling agreements with projects outside the Montauban area could allow mill utilisation and revenue following the depletion of the current project resource. 

The Montauban project has the effect of reclaiming an orphan site therefore removing the environmental liability attributed to the Quebec Government. There are precedents in the province of Quebec where the government offers financial support to projects reclaiming orphan sites.  

Due to the economic challenges in the region of Montauban it is possible that government grants be obtained to fund a portion of employee salary and training costs.  

The mica value received in the current plan assumes that the recovered mica is in the lower marketable quality range. Mica value can be substantially enhanced through enrichment.  

The company has entered into a joint-venture agreement to create construction building materials with the use of the processed tailings and organic polymer binder.  

The Montauban project could be reshaped into a carbon offset project for which carbon credits could be sold.  
QA/QC
The tailings samples were placed into plastic bags. Sample tags were inserted into each bag before being sealed and stored at the campsite in a secure area. At the completion of the program the samples were transported by company trucks directly to the SGS laboratory in Quebec City for preparation and analysis. Once dried, the samples passed through a 20-mesh sieve to break up any agglomerates, homogenized and a 150 g sub-sample pulverized to 85% less than 75 µm and submitted for Au, Ag assays and ICP-scan for 42 elements. Au assay by Fire Assay with Atomic Absorptions Spectrometry (AAS) finish, reporting limits 0.02-200000 ppm for Au and Ag assay by 4-acid digest AAS, reporting limits of 1-1000 ppm.
Blank and standard were inserted in each batch of 20 samples sequence and sent to the laboratory for analysis in addition to the standards, blanks and pulp duplicate inserted by SGS Laboratory.
The verifications of QP's allow the disclosure of this study and press release.
Qualified Person
The technical content of this news release has been reviewed and approved by Claude Duplessis, P.Eng., Merouane Rachidi P. Geo, and Daniel Dufort, P.Eng., of GoldMinds Geoservices Inc., John Langton P.Geo of JPL GeoServices, Edmond St-Jean P.Eng., Claude Bissonnette P.Eng. and Francis Gagnon P.Eng. of Groupe Alphard inc. independent qualified persons as defined by National Instrument 43-101.
Pour une traduction française de ce communiqué de presse, veuillez visiter notre site Web à www.esgold.ca.
About the Company
ESGold Corp. is a Canadian environmentally aware resource exploration and processing company. Management has demonstrated expertise in advancing gold exploration projects into acquisition targets, most notably in the province of Quebec. ESGold's principal restoration and recovery project is the Montauban property situated in Quebec, just 80 kilometers west of Quebec City. Recently, the Company has also entered into a joint venture agreement to determine the presence of recoverable metals in the Ottawa River, consistent with ESGold's commitment to environmental recovery solutions.
For more information on ESGold Corp. please contact the Company (+1 514-712-1532) or visit the website www.esgold.ca for past news releases, 3D model of the Montauban processing plant, media interviews and opinion-editorial pieces. To keep up with what's going on with ESGold please join our shareholders chat room on telegram :https://t.me/+SQeyLoDRjIAwMDVh
On behalf of the Board of Directors,
ESGold CORP.
Jean Yves Therien
Chief Executive Officer
John Stella
Investor contact
Tel: +1 514-712-1532
Email: info@esgold.ca
This press release contains "forward-looking information" that is based on the Company's current expectations, estimates, forecasts, and projections. This forward-looking information includes, among other things, statements with respect to the Company's exploration and development plans. The words "will", "anticipated", "plans" or other similar words and phrases are intended to identify forward-looking information. Forward-looking information is subject to known and unknown risks, uncertainties and other factors that may cause the Company's actual results, level of activity, performance, or achievements to be materially different from those expressed or implied by such forward looking information.
Neither the Canadian Securities Exchange nor its Regulation Services Provider accept responsibility for the adequacy or accuracy of this release