Engineer Gold Mines Ltd. provides update on compilation & targeting work at Wann River area
Vancouver, BC - TheNewswire - February 27, 2023 - Engineer Gold Mines Ltd. ("the Company" or "Engineer") (TSXV:EAU) (OTC:EGMLF) is pleased to provide an update on its 100%-owned Engineer District property, which covers 29,593.47 hectares in a 35-km-long contiguous claim grouping near Atlin in northwest British Columbia. The Property includes the historical high-grade Engineer Gold Mine, the TAG developed prospect, and several other high-grade vein and shear-hosted bulk tonnage gold targets. The Company is currently compiling prior owner and historical data to identify opportunities for development and discovery.
Chris Huggins, President & CEO of Engineer Gold Mines Ltd., stated "The Wann River area holds huge potential to delineate a deposit, with several impressive exposures to follow up on and define a system. Drill permits are in place for the area and several targets have been identified. I see the Wann River area as a target worthy of investing exploration efforts."
The Wann River area lies approximately 4 km south of the historic Engineer Gold Mine in an area where volcanic rocks of the Stikine Terrane are cut by anastomosing strands of the Llewellyn fault zone (Fig. 1). Previous work consists predominantly of surface geochemical sampling and prospecting, which has led to the discovery of several exposures of generally southeast-trending veins over an approximately 800 m x 180 m corridor (Pautler, 2021). Mineralized zones occur peripheral to and within the early Cretaceous granitic Wann River Stock (Fig. 2). Veins are typically 1 – 80 cm wide, comprising quartz with mineralization of tetrahedrite-freibergite, chalcopyrite, sphalerite, and galena. Zones occur as multiple sheeted veins, stockwork, and stringers with quartz-sericite-sulphide alteration envelopes up to 5 m wide (Pautler, 2021). The veins host both precious and base-metal enrichment, drawing comparisons to epithermal gold-silver deposits with elevated base metals in the Stewart mining camp of northwest BC, such as the Premier Gold Project, Scottie Gold, and Homestake Ridge. Workers have also suggested an orogenic or intrusion-related gold origin (Pautler, 2021).
Despite exploration in the Wann River area starting in the early 1900's, overburden and vegetation cover and sporadic exploration efforts leave the area largely under-explored. Ground magnetic and electromagnetic geophysical surveys in 1968 successfully identified several conductors in the vicinity of old workings at the Brown showing (Cathro, 1968; Fig. 2). From 2008 through 2010, Blind Creek Resources conducted prospecting and rock sampling widely throughout the area and conducted a magnetometer survey, which delineates a strong northwest-trending magnetic high along the Llewellyn fault. In 2011, Blind Creek drilled 3,306.91 m in 17 diamond drillholes in the Brown and Lum areas (Aspinall, 2011b, c). In 2017, geologic work and a Mobile Metal Ions ("MMI") soil survey identified the Wann River Stock and several multi-element geochemical anomalies (Devine, 2017). In 2020, Engineer Gold Mines conducted a geological evaluation and noted that: 1) 2011 drillhole geometry was inadequate to intersect the dominantly southwest-dipping vein systems (Fig. 2) and 2) several areas hold potential for connectivity and expansion of known vein systems, summarized below (Pautler, 2021).
The Lum showing, on the bank of Taku Arm, consists of numerous steeply southwest-dipping centimetre to 30-cm-wide quartz veins, variably mineralized with chalcopyrite, galena, sphalerite, malachite, and pyrite. The showing was historically explored by two trenches and several pits; 2010 grab samples from historic trench spoils yielded up to 245 g/t Au, 1360 g/t Ag, 4.15% Cu, and 3.46% Pb (Aspinall, 2011a). Approximately 265 m southwest of Lum, the Morel showing consists of northwest-trending sheeted quartz veinlets and stringers cutting orthogneiss within 10-cm-wide zones with minor pyrite and tetrahedrite. A 2020 grab sample returned 1.48 g/t Au & 14.2 g/t Ag, with elevated lead, zinc, antimony, and tellurium (Pautler, 2021). Mineralized veins at both Lum and Morel remain open at depth and along-strike to the southeast(Fig. 2).
To the southeast of Lum, the northwest-trending Float Vein was intersected in drillholes WR11-14 and WR11-16, following up on previous high-grade float (Fig. 2). In WR11-14, the vein consisted of 7-m-wide quartz-rich zone, from which a 16.6 m drillhole intersection (2.9 m true width) yielded an average of 1.01 g/t Au and 9.55 g/t Ag (Aspinall, 2011b, c; Pautler, 2021).The Float Vein lies along-strike of the Trail-River-Spanish vein, 350 m to the south-southeast, and the intervening trend is considered a promising target (Fig. 2). The vein system exposed at the Trail-River-Spanish zones also remains open along-strike to the south, where elevate Au in MMI samples suggest its potential extension (Fig. 2).
A further 200 m to the south, the Newfie Zone comprises a 20-m-wide zone of quartz stringer stockwork and cm-scale veins wide cutting Wann River granite. A 2010 grab sample from historic pit spoils (E83395) yielded 15.9 g/t Au, 440 g/t Ag, 0.57% Cu, 1.04% Pb, and 0.28% Zn (AW 2010-8052)(Aspinall, 2011a). The Dutch Zone lies 55 m south-southeast of Newfie, a moderately to steeply southwest-dipping quartz vein up to 80 cm wide, sampled over a 24 m strike length; a 2020 chip over 45 cm yielded 17.4 g/t Au, 72.1 g/t Ag, 0.06% Cu, 0.50 % Pb, and 0.13% Zn. (S793215, Pautler 2021). Southeast of Newfie by 150 m along a vein termed the Newfie2, the Brown showing comprises a 10-m-wide shear zone with a 2-m-wide zone of anastomosing sub-centimetre to 60-cm-wide quartz veins exposed over 70 m strike extent. A chip sample over a 90-cm-wide zone of strongly quartz-bearing material in 2010 yielded 0.225 g/t Au and 8.4 g/t Ag (JP-ADIT1); 0.3 cm in the sulphide-rich footwall returned 8.6 g/t Au & 420 g/t Ag (JP-ADIT2 (Aspinall, 2011a). Variable vein orientations at both the Newfie and Brown zones suggest connectivity or veins, where nodes within the network may represent high-grade targets (Blenkinsop et al., 2020).
The Wann River area presents several worthy exploration targets. Exposed mineralization to date implies potential for a deposit-scale system of precious and base-metal enriched veins. Due to limited outcrop exposure, the Company believes that diamond drilling, surface trenching, and geophysical methods show high potential to identify additional veins and increase known continuity and connectivity of mapped veins.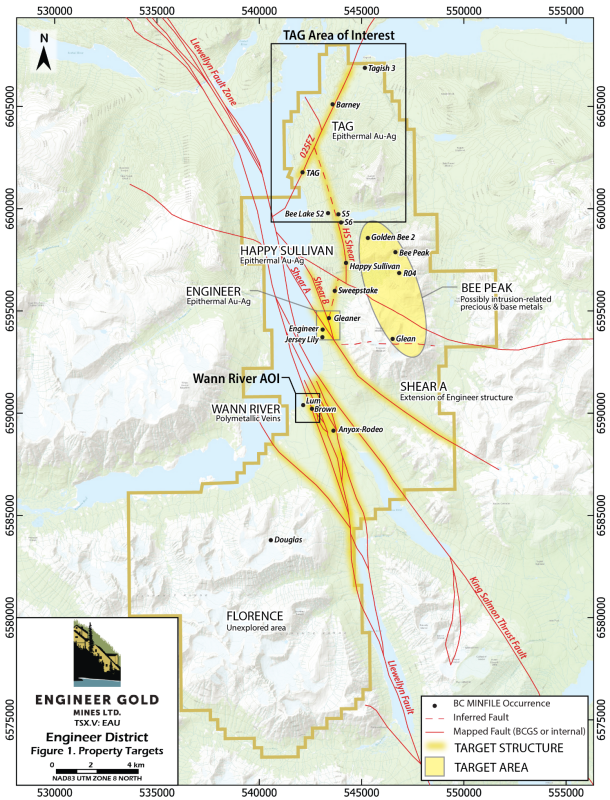 Click Image To View Full Size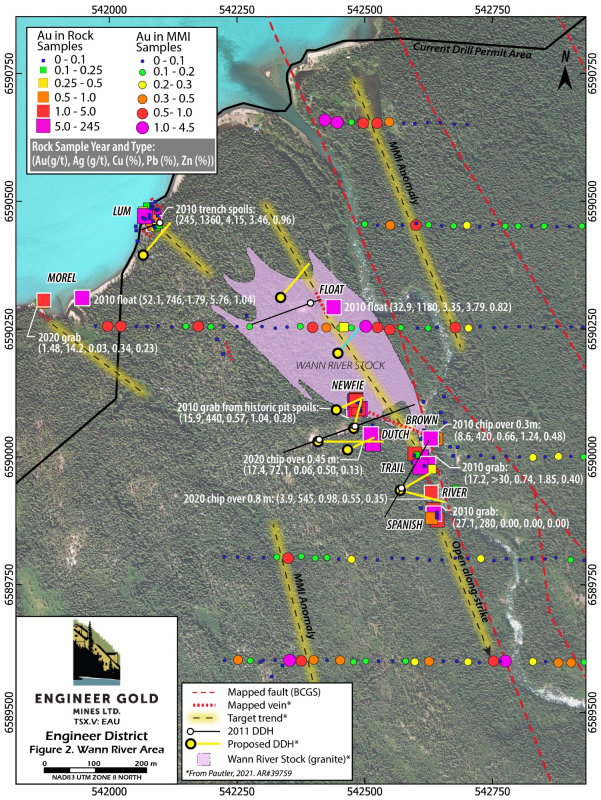 Click Image To View Full Size
References
Aspinall, N.C., 2011a. Geochemical report on the Wann River area, prepared for Blind Creek Resources. BC Geological Survey AR #32004.
Aspinall, N.C., 2011b. Stage 1 Helicopter Supported Drill Programme March-April 2011 Wann River Project within Blind Creek Resources Ltd. Tagish Lake Group Claims. BC Geological Survey AR #32403.
Aspinall, N.C., 2011c. Stage 1 & 2 Helicopter Supported Drill Programme March-June 2011 Wann River Project within Blind Creek Resources Ltd. Tagish Lake Group Claims. BC Geological Survey AR #32478.
Blenkinsop, T.G., Oliver, N.H.S., Dirks, P.G.H.M., Nugus, M., Tripp, G., and Sanislav, I. 2020. Structural Geology Applied to the Evaluation of Hydrothermal Gold Deposits. In 2020 Society of Economic Geologists Inc. Reviews in Economic Geology, v. 21, pp. 1-23.
Cathro, R.J., 1968. Geophysical Report Magnetic and Electromagnetic Surveys of Mineral Claims located near the mouth of the Wann River, for Idaho Silver Mines Ltd. BC AR #01628.
Devine, F., 2017. Report on the 2017 MMI Soil Sampling Program Engineer Mine and Wann River Areas, Southern Tagish Lake Area, BC.
Pautler, J., 2021. Geological and geochemical report on the Engineer Gold Mine Property, Tagish Lake, British Columbia. BC Geological Survey AR #39759.
The Company is also pleased to announce that Black Swan Solutions will be assisting in raising the Company's profile.
Black Swan Solutions Inc. is an investor outreach company from Vancouver, B.C. owned by Adam Emes and Dawson Ignatieff. This company and both individuals are arms length to the Company and its' Directors. Messrs. Emes and Ignatieff have no interest, directly or indirectly in Engineer Gold, and may acquire an interest in the future. Black Swan will be initiating outbound calls on behalf of Engineer Gold for a period of 30 days and may continue beyond the initial engagement. A fee of $3,500 is payable in cash. A finder's fee or stock options commensurate with regulatory policies may be paid or awarded if applicable.
Qualified Person
The technical content of this news release has been reviewed and approved by Sue Bird, M.Sc., P.Eng., independent consultant, a qualified person, as defined by National Instrument 43-101.
About Engineer Gold Mines Ltd.
Engineer Gold Mine: The historic Engineer Gold mine is a narrow vein past producing underground gold mine with an Inferred Mineral Resource of 41,000 t grading 19.0 g/t gold for 25,000 oz contained gold. The resource uses a cutoff grade of 5 g/t Au and assumes a 1m minimum mining width, which is similar to historical mining. It includes all material inside the mineralized shoots and is based on the payability (stope) limits. Within this resource is a higher-grade core of 14,000t grading 52.5 g/t gold (25 g/t gold Cut-Off) containing 23,600 oz contained gold. The resource grade was reconciled to a bulk tonnage sample which contained 175 tonnes at 23.9 g/t Au which is 16% higher than the resource grade of 20.6 g/t Au for the Engineer portion of the resource. This is considered acceptable for a nuggety gold deposit and exemplifies the potential conservatism of the 2018 resource. This resource estimate was initially calculated by Snowden Mining Industry Consultants Ltd. in 2011 and re-stated in the 2018 NI 43-101 Technical Report.
Note that this resource estimate predates the 2019 CIM Guidelines for NI 43-101 reporting. The company has done no further work to confirm this historical resource.
Tag Property: The 1,070-hectare Tag property covers the 025 or Main zone, which contains an historical mineral resource estimate including 250,000 tonnes of Indicated material at average grades of 2.97 g/t Au and 12.09 g/t Ag, and an Inferred resource of 400,000 tonnes at average grades of 2.98 g/t Au and 9.91 g/t Ag. The resource estimate was calculated using the polygonal method with vertical section at 50m spacing, and grades composited over a minimum length of 2.0 meters. The Au was capped at a value of 4 g/t and Ag was capped at 25 g/t. Underground mining was assumed with all material having a minimum composited length of 2m, within the interpreted shapes and above the cutoff assumed to be amenable to underground mining. The cut-off grade used was 3.0 g/t gold equivalent, calculated with a silver to gold ratio of 59.927. This historical resource was published as an NI 43-101 report filed on SEDAR entitled "Technical Report on Resource Estimates for the Tag Property, Northern British Columbia", prepared for CZM Capital Corporation by Reddick Consulting Inc. and dated December 29, 2009. Note that this estimate predates the 2019 CIM Guidelines for NI 43-101 reporting. The Company has done no further work to confirm this historical resource.
Wann River: The Wann River project has seen grab samples from the Lum showing with up to 263 g/t Au and 1350 g/t Ag reported in 2010. Adjacent to the prolific Llewellyn fault, the Wann River project holds potential for significant further exploration and discovery.
On Behalf of the Board of Directors
Engineer Gold Mines Ltd.
"Christopher Huggins"
President & CEO
Tel: 604.968.4844
chris@engineergoldmines.com
Cautionary Notes
Neither the TSX Venture Exchange nor its Regulation Services Provider (as that term is defined in policies of the TSX Venture Exchange) accepts responsibility for the adequacy or accuracy of this release. The TSX Venture Exchange has not reviewed the content of this news release and therefore does not accept responsibility or liability for the adequacy or accuracy of the contents of this news release.
This news release contains certain forward-looking statements which involve known and unknown risks, delays, and uncertainties not under the control of Engineer Gold Mines Ltd. which may cause actual results, performance or achievements of Engineer Gold Mines Ltd. to be materially different from the results, performance or expectation implied by these forward looking statements. By their nature, forward-looking statements involve risk and uncertainties because they relate to events and depend on factors that will or may occur in the future. Actual results may vary depending upon exploration activities, industry production, commodity demand and pricing, currency exchange rates, and, but not limited to, general economic factors.