Nutraceutical Company, Ventree Innovations, Closes Series A Round of Financing
March         25, 2022 -  TheNewswire - Ventree Innovations Inc announces pursuant to the National Instrument 45-110, and in partnership with Vested.ca, the Company's Series A placement was oversubscribed and closed on March 25, 2022, with gross proceeds of $27,550 and 145 investors. The placement was priced at $0.05 per Special Warrant.
Ventree Innovations Inc is a dynamic young company investing in sustainable agroforestry and the production of phyto-medicinal nutraceutical products herbal medicine production in the tropical regions of the world. Aaron Elton, founder and president of Ventree summed up the organization's commitment: "By adding value to forests through the development of a wide range of efficacious natural products we work with indigenous communities to protect and enhance their traditional forests, which are critically needed to help the planet reverse global warming."
 The company envisions becoming a global inspiration for thousands of subsidiaries and franchise-like model farms and eco-friendly processing companies while delivering only the highest quality all-natural consumables through a professional online shopping experience that gives our customers the opportunity to sponsor and support the expansion of our medicinal forests in a collective effort to move humanity into a sustainable future economy.
The close of the Series A placement signals a new chapter for the company as it gets ready to scale and create long-term sustainable solutions for the environment, communities, and investors and each Series A participant will receive a complementary bag of Ventree Life Moringa Leaf Powder to try the product for themselves.
Ventree Innovations Inc will issue a total of 551,000 Special Warrants at a price of $0.05/Special Warrant. The Special Warrants automatically convert into common shares of the Issuer on a one-to-one basis: (i) at any time, at the discretion of the Issuer; (ii) upon the issuance by a Canadian securities regulatory authority of a receipt for a final prospectus qualifying the issuance of the Common Shares upon conversion of the Special Warrants; or (iii) on that date that is 18 months from the date of issuance of the Special Warrants.
Investors are advised to consult their own legal advisors in this regard. Investors can view and print the details of their investment on the Vested.ca website under the "My Investments" tab in their online profile.
For further information on the company, its management team, Ventree Life products, and Priceless Farms, please visit our website www.ventreeinnovations.com
About Vested Technology Corp
Vested Technology Corp. (Vested.ca) is an equity crowdfunding website that provides private start-up companies a platform on which they can list, promote, and collect funds for their projects.  
Vested.ca allows investors easy access to participate in start-up campaigns and empowers private companies to improve their reach to more investors through crowdfunding exemptions. For start-up companies looking to list on a public market, the crowdfunding exemption can provide the required investor distribution for a public listing. Distribution can be achieved quickly, easily, and inexpensively. 
Equity (or "securities") crowdfunding is the process by which a business can raise money using small amounts with many investors. Equity crowdfunding is different from other, more established forms of crowdfunding in that equity crowdfunding specifically involves the issuance of securities.
END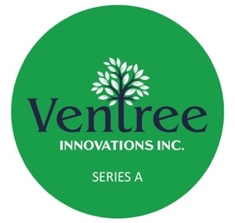 For more information, please contact
Ventree Innovations
E:   investors@ventreeinnovations.com
P:  (604) 245-5956
W: https://ventreeinnovations.com/
Forward Looking Statements:
Unless otherwise denoted, all currencies are in Canadian Dollars.
Neither the TSX Venture Exchange nor its Regulation Services Provider (as that term is defined in the policies of the TSX Venture Exchange) accepts responsibility for the adequacy or accuracy of this release.
This news release may contain forward-looking statements and forward-looking information within the meaning of applicable securities laws. The use of any of the words "expect", "anticipate", "continue", "estimate", "objective", "ongoing", "may", "will", "project", "should", "believe", "plans", "intends" and similar expressions are intended to identify forward-looking information or statements.
This news release may contain forward-looking statements and information concerning Ventree Innovations Inc. ("the Company"); and includes its wholly owned subsidiaries.
The forward-looking statements and information are based on certain key expectations and assumptions made by the Company, including expectations and assumptions concerning the success of new product development, the Company's ability to integrate acquired businesses and complete strategic acquisitions of additional business and other factors that affect demand for the Company's products.
Although the Company believes that the expectations and assumptions on which such forward-looking statements and information are based are reasonable, undue reliance should not be placed on the forward-looking statements and information because the Company can give no assurance that they will prove to be correct. By its nature, such forward-looking information is subject to various risks and uncertainties, which could cause the Company's actual results and experience to differ materially from the anticipated results or expectations expressed. These risks and uncertainties, include, but are not limited to expenditures and other factors that affect demand for the Company's products, industry competition, the need to effectively integrate acquired businesses, uncertainties as to the Company's ability to implement its business strategy effectively in Canada and the United States, labor, equipment and material costs, access to capital markets, interest and currency exchange rates, technological developments, political and economic conditions and the Company's ability to attract and retain key personnel.
Readers are cautioned not to place undue reliance on this forward-looking information, which is given as of the date it is expressed in this news release or otherwise, and not to use future-oriented information or financial outlooks for anything other than their intended purpose. The Company undertakes no obligation to update publicly or revise any forward-looking information, whether, as a result of new information, future events or otherwise, except as required by law.