VENTREE Innovations goes Back to the Canadian Crowdfunding platform for Second Round of Financing
Vancouver, British Columbia – TheNewswire - April 6th, 2022 - Ventree Innovations pursuant to the British Columbia Securities Commission ("BCSC") Instrument 45-535, is utilizing the Start-up Crowdfunding Registration and Prospectus Exemption (the "Exemption") to raise expansion capital for its Nutraceutical business.
In partnership with Vested.ca, the Company's placement opportunity will be launched on Thursday April 7, 2022 @ 800AM PST (Vancouver time), where Vested.ca will open the (Series B) $0.10 round of crowdfunding. Visit Ventree Innovations profile for more details @ https://vested.ca/projects/view/139
Ventree Innovations and its farm Priceless Farms in Uganda was founded by Canadian, Aaron Elton and Joe Goodwin, and is 140 acres in the White Nile area of Uganda, Africa and produces the vivid green, Moringa leaf powder.
Priceless farms will be cultivating a variety of crops, some for the local market, but the majority will be for organic phytochemical and other nutraceuticals production to export Globally. VentreeLife's products are already a significant constituent in Licenced Nutritional foods exported via a partner globally.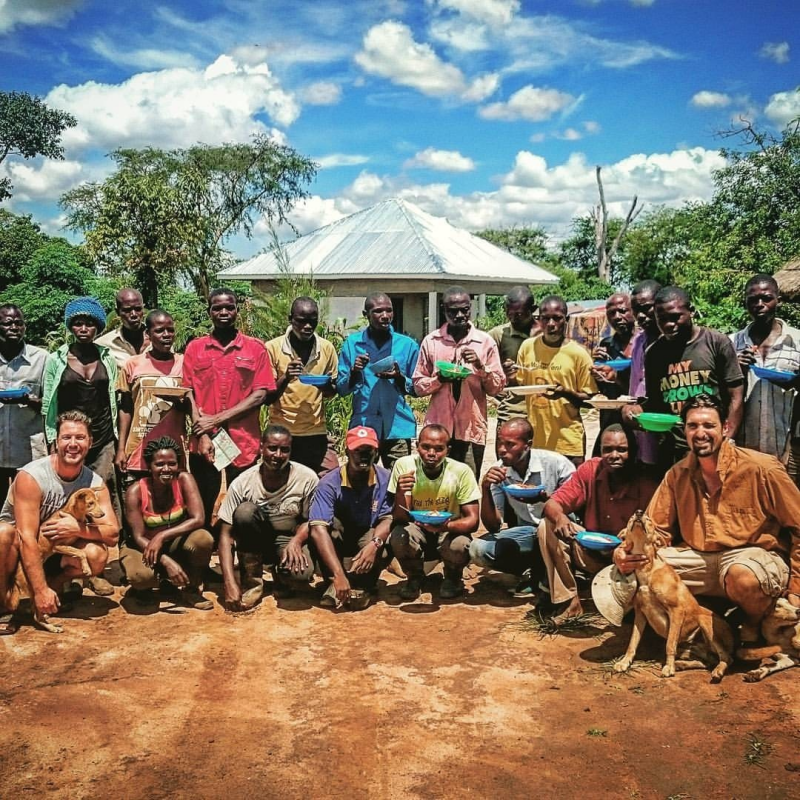 Click Image To View Full Size
The Priceless Farms team in Uganda with Founder Aaron Elton, who lives in Uganda with his wife and children.
Moringa is often known as the "miracle tree," Mainly, because every part of the Moringa tree is beneficial for humans and animals. The leaves, roots, bark, seeds, and seed cake can be used for a variety of things, including food, medicine, and water purification. 
The initial product from VentreeLife will be the high quality Moringa Leaf powder manufactured by Priceless Farms is the first flagship product to be introduced on Ventreelife.com. Moringa Leaf Power contains 2 times the protein of yogurt, 4 times the vitamin A of carrots, 3 times the potassium of bananas, 7 times the vitamin C of oranges, and 4 times the calcium of milk. Their process preserves the nutrition of the living plant to deliver a full complement of essential amino acids and phytonutrients.

Nicholas Jeffery, Ventree Innovations Chairman said "We are excited to be using Vested.ca again so quickly after the successful $0.05 round. This is a larger round with a target raise of CDN$500,000.00. At the time of this release, we had already received significant expressions of interest. Vested is a robust and simple platform to use and suits our potential Investor audience beautifully".
David Patterson, Vested.ca's CEO stated: "Ventree has leveraged our platform to complete one allocations of seed capital and shareholder board lot allocations and is now using the platform to complete the B Round. Vested.ca allowed for accredited investors and family and friends resident in Canada to participate in the Company at an early stage, which is an incredibly inclusive way to start the enterprise. This is the first client Vested has in the nutraceutical space and we are excited to support Ventree Innovations."
About Ventree Innovations
Ventree Innovations is a dynamic young company investing in sustainable agroforestry and herbal medicine production in the tropical regions of the world. By adding value to forests through the development of a wide range of efficacious natural products we work with indigenous communities to protect and enhance their traditional forests, which are critically needed to help the planet reverse global warming.

The company envisions becoming a global inspiration for thousands of subsidiaries and franchise-like model farms and eco-friendly processing companies while delivering only the highest quality all natural consumables through a professional online shopping experience that gives our customers the opportunity to sponsor and support the expansion of our medicinal forests in a collective effort to move humanity into a sustainable future economy.
For further information on the company, its management team, VentreeLife products, and Priceless Farms, please visit our website www.ventreeinnovations.com
About Vested Technology Corp
Vested Technology Corp. (Vested.ca) is an equity crowdfunding website that provides private start-up companies a platform on which they can list, promote, and collect funds for their projects.  
Vested.ca allows investors easy access to participate in start-up campaigns and empowers private companies to improve their reach to more investors through crowdfunding exemptions. For start-up companies looking to list on a public market, the crowdfunding exemption can provide the required investor distribution for a public listing. Distribution can be achieved quickly, easily, and inexpensively. 
Equity (or "securities") crowdfunding is the process by which a business can raise money using small amounts with many investors. Equity crowdfunding is different from other, more established forms of crowdfunding in that equity crowdfunding specifically involves the issuance of securities.
For more information, please contact
Ventree Innovations
E:   investors@ventreeinnovations.com
P:   (604) 245-5956
W: https://ventreeinnovations.com/
END
Forward Looking Statements:
Unless otherwise denoted, all currencies are in Canadian Dollars.
Neither the TSX Venture Exchange nor its Regulation Services Provider (as that term is defined in the policies of the TSX Venture Exchange) accepts responsibility for the adequacy or accuracy of this release.
This news release may contain forward-looking statements and forward-looking information within the meaning of applicable securities laws. The use of any of the words "expect", "anticipate", "continue", "estimate", "objective", "ongoing", "may", "will", "project", "should", "believe", "plans", "intends" and similar expressions are intended to identify forward-looking information or statements.
This news release may contain forward-looking statements and information concerning Ventree Innovations Inc. ("the Company"); and includes its wholly owned subsidiaries.
The forward-looking statements and information are based on certain key expectations and assumptions made by the Company, including expectations and assumptions concerning the success of new product development, the Company's ability to integrate acquired businesses and complete strategic acquisitions of additional business and other factors that affect demand for the Company's products.
Although the Company believes that the expectations and assumptions on which such forward-looking statements and information are based are reasonable, undue reliance should not be placed on the forward-looking statements and information because the Company can give no assurance that they will prove to be correct. By its nature, such forward-looking information is subject to various risks and uncertainties, which could cause the Company's actual results and experience to differ materially from the anticipated results or expectations expressed. These risks and uncertainties, include, but are not limited to expenditures and other factors that affect demand for the Company's products, industry competition, the need to effectively integrate acquired businesses, uncertainties as to the Company's ability to implement its business strategy effectively in Canada and the United States, labor, equipment and material costs, access to capital markets, interest and currency exchange rates, technological developments, political and economic conditions and the Company's ability to attract and retain key personnel.
Readers are cautioned not to place undue reliance on this forward-looking information, which is given as of the date it is expressed in this news release or otherwise, and not to use future-oriented information or financial outlooks for anything other than their intended purpose. The Company undertakes no obligation to update publicly or revise any forward-looking information, whether, as a result of new information, future events or otherwise, except as required by law.