Delta CleanTech appoints Nitin Kaushal to the board of directors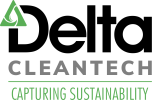 Calgary, Alberta - TheNewswire - September 13, 2021 - Delta CleanTech Inc. ("Delta" or the "Company") (CNSX:DELT.CN)  is pleased to announce that Nitin Kaushal has accepted an appointment to the Company's board of directors ("Board").  
Mr. Kaushal has served on various audit, governance and compensation committees for NASDAQ and TSX Exchange listed companies, is a member of the Canadian Institute of Chartered Accountants, has a Bachelor of Science (Chemistry) and has over 30 years experience in the finance and investment industries. He has the ability to bridge the financial and scientific arenas, is a very effective negotiator, with proven leadership, motivational and relationship skills. He currently serves on a number of boards
Currently the Board is comprised of Lionel Kambeitz, Chairman; Jeffrey Allison, President; Wayne Bernakevitch, Garth Fredrickson and Nitin Kaushal.
About Delta CleanTech Inc.
Delta CleanTech Inc., is a recognized global technology leader in CO2 Capture, Decarbonization of Energy, Solvent & Glycol Reclamation, Blue Hydrogen Production, and Carbon Credit aggregation and management. For over 15 years, Delta's ESG-driven technology continues to provide solutions to clients all over the world in sequestering, capturing and reducing CO2 while producing high quality fungible Carbon Credits.
For more information contact:
Jeff Allison, President
Phone: 306‐352-6132
Cell: 306-530-6025
E‐mail: jallison@deltacleantech.ca
The CSE does not accept responsibility for the adequacy or accuracy of this release.