Canada Silver Cobalt Provides Update on Spin-Out of Graal Nickel Property into Coniagas Battery Metals and Appoints Coniagas Directors and Officers
Coquitlam, BC – TheNewswire - February 15, 2023 – Canada Silver Cobalt Works Inc. (TSXV:CCW) (OTC:CCWOF) (Frankfurt:4T9B) (the "Company", "Canada Silver Cobalt" or "CCW") is pleased to provide an update on the previously-announced spin-out of the Graal property in Quebec into a separate public company called Coniagas Battery Metals Inc. ("Coniagas"), currently a wholly-owned subsidiary of CCW (see CCW press release – October 4, 2022). The Board of Directors of CCW has approved proceeding with the spin-out by way of plan of arrangement under the Canada Business Corporations Act. In connection with the plan of arrangement, approximately 37% of the shares of Coniagas will be distributed to the shareholders of CCW by way of special dividend, consisting of approximately 11.7 million shares, each accompanied by one-half of a common share purchase warrant.
The closing of this transaction is subject to a number of conditions, including court, shareholder and regulatory approval, including that of the TSX Venture Exchange, and the listing of Coniagas on a Canadian stock exchange. CCW intends to call a special meeting of shareholders to approve the plan of arrangement and will file and distribute a management information circular with full details of the proposed transaction.
Frank J. Basa, B.Eng., P.Eng., CEO of CCW, who will become President and CEO of Coniagas stated: "It is the Company's intention to develop Coniagas into a premier supplier to the EV market. Coniagas' significant land package in northern Quebec, positive drill results, and the province's supportive approach to resource development provides confidence that our shareholders are well positioned in CCW and Coniagas."
"With respect to CCW, it is on its way to becoming a pure precious-metal play," Frank J. Basa further commented. "The two main silver and gold properties held by CCW are in mining friendly historical jurisdictions. Castle East has had eight high-grade silver vein structures identified and, with ongoing work, has the potential to identify additional mineralized structures. Silver grades of 89,000 gpt silver have been drilled at Castle East. Eby-Otto, the Company's gold prospect, is on the Larder Lake-Cadillac Break and is next to the high grade Maccassa mine in Kirkland Lake, Ontario where the Company has recently completed a preliminary drill program where assays are still pending. CCW has also been accumulating shares in a company with an advanced gold deposit that is permitted for production with a positive PFS as a potential acquisition."
The Graal Property
The Graal Property is a grassroots Nickel-Copper-Cobalt (Ni-Cu-Co) exploration property located in northern Quebec, approximately 160 km north-west of the town of Saguenay. The overall size of the property is 6,113 hectares and results from claim staking, a property acquisition from a SOQUEM/Mines Coulon joint-venture, and an option agreement with Globex Mining Enterprises Inc.
The Graal Property lies within the Grenville geologic province and contains ultramafic to mafic magmatic type rocks belonging to the Lac-Saint-Jean suite – one of the largest anorthositic complexes in the world. The types of deposits expected in this geological setting are Fe-Ti-P and/or Ni-Cu-PGE and are caused by the immiscibility of specific elements/components within the cooling of magma during geological deposition. The mineralization typically consists of sulphides such as pyrrhotite, chalcopyrite, pentlandite, and various amounts of pyrite.
Over the last two years, the Company has completed various types of exploration work on the Graal Property including airborne magnetic/gravity geophysics, ground SQUID geophysics, borehole EM geophysics, and 16,794.60m of diamond drilling since its acquisition in late 2020. The exploration program, and the airborne geophysics in particular, had identified a large gravity anomaly in the heart of the property. Further geophysics including SQUID and borehole EM surveys were completed to further understand the nature of the anomaly and identified a large EM conductor that is approximately 6km in length. Diamond drilling was completed to test specific locations within the multiple geophysical anomalies within the property. The drilling returned various amounts of Nickel-Copper-Cobalt, with minor amounts of Platinum-Palladium.
Historical drilling prior to the acquisition had previously indicated a potential target of near-surface tonnage of 30 to 60 million tonnes with a grade range of 0.60-0.80% nickel, 0.30-0.50% copper and 0.10-0.15% cobalt in the MHY section along the 6 km EM corridor. This calculation is conceptual in nature and there has been insufficient exploration to define the resource, but it highlights the overall potential of the deposit given the historic grades (excluding the 2021-2022 drilling) and size of the property. The drill results of Phase 1 of the diamond drilling have been publicly released, some of the highlights are listed in Table 1 below.
Table 1: Result Highlights from the Phase 1 2021-2022 Drilling:
| | | | | | | | | |
| --- | --- | --- | --- | --- | --- | --- | --- | --- |
| DDH | From (m) | To (m) | Length (m) | Ni % | Cu % | Co% | Pt g/t | Pd g/t |
| NRC-21-03 | 138.30 | 144.00 | 5.70 | 0.84 | 0.59 | 0.09 | 0.03 | 0.03 |
| Including | 138.30 | 142.40 | 4.10 | 1.15 | 0.27 | 0.12 | 0.04 | 0.04 |
| NRC-21-15 | 56.30 | 62.10 | 5.80 | 0.43 | 0.43 | 0.05 |  - | 0.00 |
| Including | 57.30 | 57.90 | 0.60 | 1.22 | 0.43 | 0.08 |  - | 0.08 |
| Including | 57.90 | 58.50 | 0.60 | 0.36 | 1.62 | 0.00 |  - | 0.03 |
| Including | 61.60 | 62.10 | 0.50 | 0.28 | 0.12 | 0.07 | 0.20 | 0.00 |
| NRC-21-18 | 83.00 | 88.20 | 5.20 | 0.48 | 0.38 | 0.06 |  - | 0.04 |
| NRC-22-24 | 121.50 | 152.10 | 30.60 | 0.39 | 0.40 | 0.05 |  - |  - |
| NRC-22-24 | 121.50 | 129.20 | 7.70 | 0.61 | 0.34 | 0.07 |  - |  - |
| Including | 122.50 | 123.50 | 1.00 | 1.35 | 1.16 | 0.14 |  - |  - |
| NRC-22-24 | 142.80 | 152.10 | 9.30 | 0.72 | 0.86 | 0.09 |  - |  - |
| NRC-22-26 | 135.00 | 140.80 | 5.80 | 0.57 | 0.41 | 0.08 |  - |  - |
| Including | 137.00 | 137.70 | 0.70 | 1.02 | 0.66 | 0.13 |  - |  - |
Some Historic Drill Results:
Intercepted 0.84% Ni, 0.50% Cu and 0.10% Co over 10.20m including 1.03% Ni, 0.49% Cu and 0.13% Co over 3.00m in hole 1279-00-08 (GM 58807, Roy 2001) 

Intercepted 1.03% Ni and 0.80% Cu over 10.25m including 1.06% Ni and 2.75% Cu over 1.50m in hole 1279-03-40 (GM 60730, Roy 2003)  

Intercepted 1.15% Ni, 0.56% Cu and 0.15% Co over 4.50m in hole 1279-00-10 (GM 58807 Roy 2001, Francoeur 1998).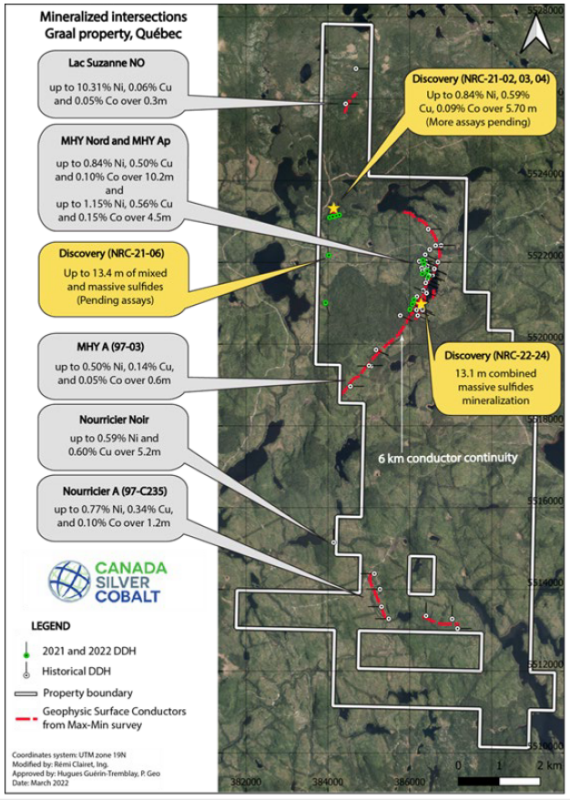 Click Image To View Full Size
Figure 1: Map of location, claims, and several drill intercepts from historic and 2021-2022 drilling
Coniagas Battery Metals Directors & Executive Officers
CCW also announces that the following people have been appointed as directors and executive officers of Coniagas.
Ron Goguen - Independent Director
Ron Goguen became Chairman & CEO of Colibri Resource Corporation in July 2017. Colibri Resource Corporation has been a public company since 2004 and is a junior gold mining company. Mr. Goguen purchased his first exploration drilling company, Ideal Drilling, in 1980. In 1981, he added a second exploration drilling company and increased sales and net income significantly. Those companies were combined to become Major Drilling Group International Inc., a publicly traded company that has traded on the TSX since 2015 (TSX.MDI). Mr. Goguen served as President and Chief Executive Officer until 2000 and during this time was a key driving force in building Major Drilling into one of the largest mineral drilling service companies in the world (33 operations in 15 countries) 
Since leaving Major Drilling in 2000, Mr. Goguen has served as the President of Royal Oaks Real Estates Inc. and Royal Oaks Golf & Country Club. He has been a member of the Board of Directors of Northeast Bank since 1990. During 2006, Mr. Goguen was appointed Chairman of the Board for Beaver Brook Antimony Mine Inc., and he remained so until bringing the operation into production in 2008. Beaver Brook is the largest antimony mine outside of China. In 1995, Mr. Goguen was named Atlantic Canada's Entrepreneur of the Year as presented by Governor General of Canada. 
William D. Macdonald – Independent Director
William D. Macdonald is a former Director and Logistics Mexican Manager of Landdrill International Inc., a Mexican-based company engaged in providing drilling services throughout Mexico and Nicaragua. The company offers various drilling services including diamond, reverse circulation, residential well, geotechnical, and environmental drilling. Mr. Macdonald is presently a director of Colibri Resource Corporation, a junior mining company. He is also a director of Canadian Gold Resources Ltd. Mr. Macdonald was also Chief Executive Officer of LEM Manufacturing, a manufacturer of drilling equipment.
Dianne Tookenay – Independent Director
Dianne Tookenay is a band member of Brunswick House First Nation in Ontario. She has been involved with the topic of Aboriginal Consultation and Accommodation since 2007 and has served as a director of pubic companies in mining exploration in the past as well. She holds a Certificate in Mining Law from the Osgoode Hall Law School - York University, a Masters of Public Administration from the University of Manitoba, a Bachelor of Administration from Lakehead University, Native Band Management Diploma and Indian Economic Development Diploma from Confederation College Applied Arts and Technology. Ms. Tookenay has accumulated a wide breadth of business development and advocacy roots within the First Nation communities which will be of significant value to Coniagas' development now and in the coming years.
Aurelian Basa – Director
Aurelian Basa has spent nearly a decade engaged in the natural resources industry and has travelled extensively throughout Asia, Africa, and Europe in this capacity. Most recently, he has secured feed sources for the Re-2Ox Process including high-grade tailings projects, recycled batteries, and battery metal deposits abroad.
In his current role, Aurelian advances 'Metals-as-a-Service (MaaS)', a platform connecting commodity traders to responsible sources of critical metals supported through ongoing relationships with European metal traders and Asian battery manufacturers.
Aurelian holds a Bachelor's degree in Geography with a specialization in Planning and the Environment from Concordia University in Montreal, Quebec. He also manages Resource Active Media, a digital content agency tailored to publicly traded mining companies.
Isabelle Gauthier – Chief Financial Officer
Isabelle Gauthier has over 20 years of accounting, transactional and reporting experience. She holds a B.A. in Administration from Université du Québec à Montréal (UQAM) and she has been a member of the Ordre des Comptables professionnels agréés du Québec since 1998. She held the position of Senior Manager within the firm Raymond Chabot Grant Thornton for which she worked as an Auditor from 1996 to 2006. She has developed an expertise in public companies, primarily in the mining sector. Through her involvement in various assignments, she acquired solid experience in consolidation of foreign entities, reverse take-over and spinout and financial reporting.
Gerhard Kiessling, P.Geo. – Vice President Exploration
Gerhard Kiessling joined the Company in 2020 and has served as both an exploration geologist and exploration manager before being promoted to Vice President Exploration. Mr. Kiessling has built an excellent team within Canada Silver Cobalt, and his high standard of work, organization, and managing skills have greatly improved the Company's internal organization. The Company believes he will continue to bring his work ethic to and will be an asset to Coniagas Battery Metals. He graduated from the University of Waterloo in 2016 where he majored in Earth Science and has spent over six years working in the mining industry for companies such as Agnico Eagle, Kirkland Lake Gold, First Cobalt and McEwen Mining before joining Canada Silver Cobalt.
Qualified Person
The technical information in this news release was approved and prepared under the supervision of Mr. Frank J. Basa, B.Eng., P.Eng., CEO of Canada Silver Cobalt Works Inc., a qualified person in accordance with National Instrument 43-101.
About Canada Silver Cobalt Works Inc.
Canada Silver Cobalt Works Inc. recently discovered a major high-grade silver vein system at Castle East located 1.5 km from its 100%-owned, past-producing Castle Mine near Gowganda in the prolific and world-class silver-cobalt mining district of Northern Ontario. The Company has completed a 60,000m drill program aimed at expanding the size of the deposit with an update to the resource estimate underway.
In May 2020, based on a small initial drill program, the Company published the region's first 43-101 resource estimate that contained a total of 7.56 million ounces of silver in Inferred resources, comprising very high-grade silver (8,582 grams per tonne un-cut or 250.2 oz/ton) in 27,400 tonnes of material from two sections (1A and 1B) of the Castle East Robinson Zone, beginning at a vertical depth of approximately 400 meters. Note that mineral resources that are not mineral reserves do not have demonstrated economic viability. Please refer to Canada Silver Cobalt Works Press Release May 28, 2020, for the resource estimate. Report reference: Rachidi, M. 2020, NI 43-101 Technical Report Mineral Resource Estimate for Castle East, Robinson Zone, Ontario, Canada, with an effective date of May 28, 2020, and a signature date of July 13, 2020.
The Company also has: (1) 14 battery metals properties in Northern Quebec where it has recently completed a nearly 15,000-metre drill program on the Graal property; and (2) the prospective 1,000-hectare Eby-Otto gold property close to Agnico Eagle's high-grade Macassa Mine near Kirkland Lake, Ontario where it is exploring.
Canada Silver Cobalt's flagship silver-cobalt Castle mine and 78 sq. km Castle Property feature strong exploration upside for silver, cobalt, nickel, gold, and copper. With underground access at the fully owned Castle Mine, an exceptional high-grade silver discovery at Castle East, a pilot plant to produce cobalt-rich gravity concentrates, a processing facility (TTL Laboratories) in the town of Cobalt, and a proprietary hydrometallurgical process known as Re-2Ox (for the creation of technical-grade cobalt sulphate as well as nickel-manganese-cobalt (NMC) formulations), Canada Silver Cobalt is strategically positioned to become a Canadian leader in the silver-cobalt space. More information at www.canadasilvercobaltworks.com
"Frank J. Basa"
Frank J. Basa, P. Eng.
Chief Executive Officer
For further information, contact:
Frank J. Basa, P.Eng.
Chief Executive Officer
416-625-2342
Neither the TSX Venture Exchange nor its Regulation Service Provider (as that term is defined in the policies of the TSX Venture Exchange) accepts responsibility for the adequacy or accuracy of this release.
Caution Regarding Forward-Looking Statements
Neither the TSX Venture Exchange nor its Regulation Services Provider (as that term is defined in the policies of the TSX Venture Exchange) accepts responsibility for the adequacy or accuracy of this release. This news release may contain forward-looking statements which include, but are not limited to, comments that involve future events and conditions, which are subject to various risks and uncertainties. Except for statements of historical facts, comments that address resource potential, upcoming work programs, geological interpretations, receipt and security of mineral property titles, availability of funds, and others are forward-looking. Forward-looking statements are not guarantees of future performance and actual results may vary materially from those statements. General business conditions are factors that could cause actual results to vary materially from forward-looking statements. A detailed discussion of the risk factors encountered by Canada Silver Cobalt is available in the Company's Annual Information Form dated July 19, 2021 for the fiscal year ended December 31, 2020 available under the Company's profile on SEDAR at www.sedar.com.