Amended: VenTree Innovations Announces Completion of In-Depth Scoping Report on Ground-breaking Moringa Orchard Model
Vancouver, BC - TheNewswire - April 20, 2023 - VenTree Innovations, a pioneer in damaged land recovery systems and sustainable agriculture, is excited to announce the completion of an in-depth scoping report on its innovative moringa orchard model. This milestone marks a major step forward for the company after seven years of extensive research and sandboxing of various models aimed at land restoration and multifaceted output.
The scoping report presents a detailed analysis of the moringa orchard model's potential for generating verified carbon credits by 2024. Dr. Jenny Farmer, a newly contracted consultant for VenTree Innovations, the independent contractor has confirmed the power of the moringa tree to sequester Carbon and the ability to turn this model into carbon credit generator, stating:
"Having completed this scoping exercise it can be concluded that the Ventree tree planting program is well suited to be developed as a carbon project. Barriers have been identified which would prevent the project happening on scale without the carbon payments, and the project would have significant benefit to smallholder farmers lives and futures. The carbon benefits from the project would be significant, especially in the moringa planting systems"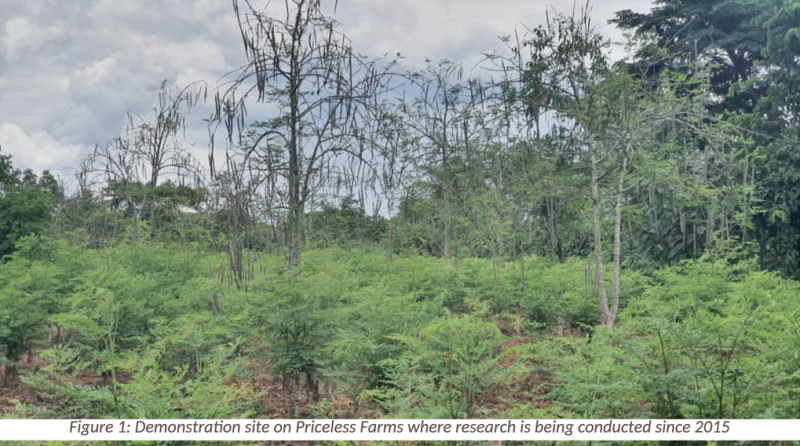 Click Image To View Full Size
VenTree Innovations is now poised to embark on the next phase of growth, working closely with early adopting investors and partners to bring the moringa orchard model to verified status. The model not only rejuvenates soils and creates an abundant ecosystem for rural farmers, but also produces a wide array of sustainable products such as fertilizers, foods, bee products, oil products, biofuels, green proteins, and high-value crop yields.
The company is eager to showcase seven years of field work and research that have gone into developing this versatile model, which has the potential to transform vast areas of agricultural systems within tropical areas. As a leader in the agroforestry sector, VenTree Innovations remains committed to unlocking the untapped potential of carbon credits and sustainable farming practices to combat climate change and foster global economic development.
Plan Vivo and other standards for both community and commercial applications of the model are being looked at for potential onward verification stages of the project's development.
About VenTree Innovations & Priceless Farms:
VenTree Innovations is a trailblazer on the cutting edge in the development of damaged land recovery systems with food, nutraceutical biofuels, and fibre production outputs. Through cutting-edge research and sustainable agriculture practices, VenTree aims to create viable solutions for land restoration, carbon sequestration, and rural economic development across the tropical world.
For more information, please contact Ventree Innovations:
E:  investor@ventreeinnovations.com

P:  +1 (604) 340-2270

W: https://ventreeinnovations.com/
Ventree Innovations Inc. Unit 704 - 595 Howe Street - Vancouver, BC V6C 2T5 PH: +1 (604) 245-5956