Vancouver, BC / TheNewswire / February 13, 2017 - Durango Resources Inc. (TSX.V-DGO), (the "Company" or "Durango") announces that its wholly owned Trove Property located in the Windfall Lake Area is in good standing until May 2018 with excess work credits. The 1,200ha Trove Property is in the favourable geology of the Urban Barry greenstone belt, 90km east of the town of Lebel-sur-Quevillon and about 11km southwest of Chibougamau.
The Trove has had geological mapping and sampling, magnetomer and VLF - EM surveys, and detailed humus grid sampling completed. Low anomalous gold and zinc values were located along the contact between a volcano-sedimentary belt and plutonic complexes. This area is particularity interesting to the Company since it has a high potential for fault-controlled gold-bearing deformation zones. A 26 line kilometer grid with 200 meter line spacing was completed for the detailed humus sampling and magnetic and VLF-EM survey. The VLF-EM survey identified four distinctive conductors, all trending southwest to northeast, and Durango intends to complete follow up work in the summer of 2017.
The Trove Property is in an area where its two immediate neighbours announced financings totaling $58M last week. Beaufield Resources Inc. (TSX.V-BFD) announced February 9, 2017 that it "has entered into an amended letter of engagement with Dundee Capital Partners under which the underwriter has now agreed to purchase 40 million common shares of corporation at a price of 10 cents per common share for gross proceeds of $4-million and 13,334,000 flow-through common shares of the corporation at a price of 15 cents per flow-through share for gross proceeds of $2,000,001 for aggregate gross proceeds of $6,000,100." Beaufield has several land packages in the Windfall Lake area and one land package is adjacent to Durango.
As the map below shows, Durango's Trove Property is also surrounded by Osisko Mining (TSX-OSK) who announced on February 6, 2017 that they have "increased the size of its previously announced private placement of 15,327,000 units at a price of $3.40 per unit for aggregate gross proceeds to the company of approximately $52 million."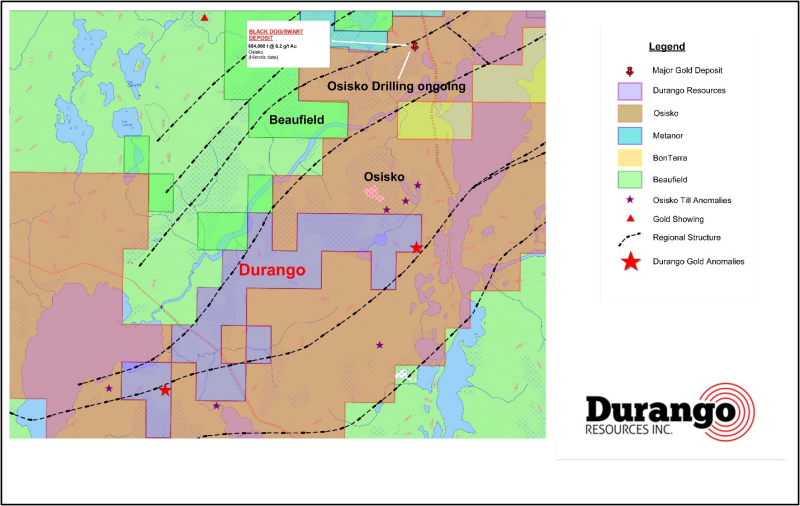 Click Image To View Full Size
Marcy Kiesman, CEO of Durango stated, "Our immediate neighbours are undergoing a combined financing of $58M which proves that the financiers have confidence in the projects. For Durango shareholders, it also affirms the potential of the strategically located Trove property as it is situated in the midst of an exciting exploration area where Beaufield and Osisko are currently undergoing drilling campaigns on their properties. With the right partner, Durango aims to advance the Trove project by completing test holes along the faults where anomalous gold values were obtained and conductors identified in previous exploration."
Durango advises it has not entered any financing agreements at this time.
About Durango
Durango is a natural resources company engaged in the acquisition and exploration of mineral properties. The Company has a 100% interest in the Mayner's Fortune and Smith Island limestone properties in northwest British Columbia, the Decouverte and Trove gold properties in the Abitibi Region of Quebec, and certain lithium properties near the Whabouchi project, the Buckshot graphite property near the Miller Mine in Quebec, the Dianna Lake silver project in northern Saskatchewan, the Whitney Northwest property near the Lake Shore Gold and Goldcorp joint venture in Ontario.
For further information on Durango, please refer to its SEDAR profile at www.sedar.com.
Marcy Kiesman, Chief Executive Officer
Telephone: 604.428.2900 or 604.339.2243
Facsimile: 888.266.3983
Email: durangoresourcesinc@gmail.com
Website: www.durangoresourcesinc.com
Forward-Looking Statements
This document may contain or refer to forward-looking information based on current expectations, including obtaining financing, the commencement and completion of future exploration, and the impact on the Company of these events. Forward-looking information is subject to significant risks and uncertainties, including market conditions, as actual results may differ materially from forecasted results. Forward-looking information is provided as of the date hereof and we assume no responsibility to update or revise them to reflect new events or circumstances. For a detailed list of risks and uncertainties relating to Durango, please refer to its prospectus filed on its SEDAR profile at www.sedar.com.
Neither TSX Venture Exchange nor its Regulation Services Provider (as that term is defined in the policies of the TSX Venture Exchange) accepts responsibility for the adequacy or accuracy of this release.