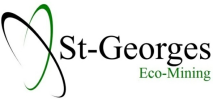 Montreal, Quebec / TheNewswire / September 18, 2017 - St-Georges Platinum and Base Metals Ltd. (CSE: SX) (OTC: SXOOF) (FSE: 85G1) is pleased to announce that all of the matters were approved at its annual general and special meeting of shareholders held in Baie-Comeau, Quebec, on September 12, 2017. The following individuals were elected as directors of the Company:
Mark Billings Chairman of the Board of Directors
Francois Dumas President & Chief Executive Officer
Enrico Di Cesare Director
Herb Duerr Director
Gary Johnson Director
Wei Tek Tsai Director
Vilhjalmur Thor Vilhjalmsson Director
The previous six directors of the Company are joined by Mr. Vilhjalmsson, who was elected at the annual general and special meeting. He has over 20 years of experience in Iceland, Greenland, the UK and Africa. He has served as a senior manager or director in green field exploration projects, as well as mining services and mine build-up. Mr. Vilhjalmsson has a diploma in business administration from the University of Bifrost, Iceland.
In addition, at the annual general and special meeting, the shareholders of the Company approved the name change to "St-Georges Eco-Mining Corp." The Company will now take the administrative steps necessary to change formally the name of the Company.
ON BEHALF OF THE BOARD OF DIRECTORS
"Mark Billings'
MARK BILLINGS, CHAIRMAN
About St-Georges
St-Georges is developing new technologies to solve the biggest environmental problems in the mining industry. If these new technologies are successful, they should improve the financial bottom line of current mining producers. The potential success of these technologies would also involve upgrading certain current known metal resources to economic status while addressing the environmental and social acceptability issues.
The Company control directly or indirectly all of the active mineral tenures in Iceland. It also explores for Nickel on the Julie Nickel Project & for industrial minerals on the Quebec's North Shore and for Lithium and rare metals in Northern Quebec and in the Abitibi area. Headquartered in Montreal, St-Georges' stock is listed on the CSE under the symbol SX, on the US OTC under the Symbol SXOOF and on the Frankfurt Stock Exchange under the symbol 85G1. For additional information, please visit our website at www.stgeorgesplatinum.com
The Canadian Securities Exchange (CSE) has not reviewed and does not accept responsibility for the adequacy or the accuracy of the contents of this release.