Vancouver, BC / TheNewswire / September 12, 2018 - Durango Resources Inc. (TSX.V-DGO) (Frankfurt-86A1) (OTCQB-ATOXF), (the "Company" or "Durango") is pleased to report that further to the news of August 30, 2018 the geophysics team is on site at Windfall Lake on the East claim block wholly owned by Durango to conduct an induced polarization ("IP") survey.
On May 30th, 2018 Durango announced results of its till and soil sampling at Windfall Lake which returned gold anomalies in the till sampling of up to 3,480 ppb (parts per billion) or 3.48 g/t gold (Au) on one group of claim blocks. Immediate mapping and follow up till sampling were conducted in June and returned additional gold results reaching up to 2,184 ppb or 2.184 g/t gold (Au) as announced on July 23, 2018.
As a follow up to the till survey, Durango geologists were dispatched last week to complete site visits on the North claim blocks which were inaccessible earlier this year. Outcrops were discovered and sampled on the North claim block. The crew collected 20 rock samples and 15 till samples which were submitted to Act Labs for assay and ODM for gold grain count. http://durangoresourcesinc.com/wp-content/uploads/2018/09/DGO-Windfall-Lake-gold-grain-in-till-GY.png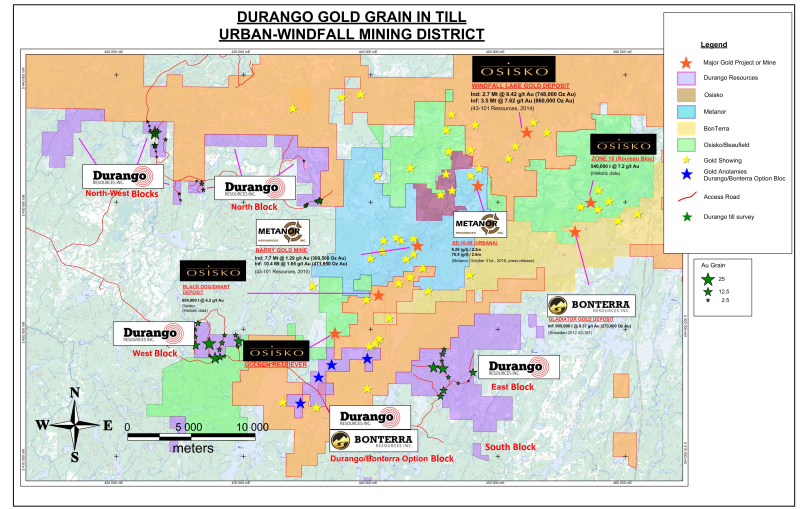 Click Image To View Full Size
The geologists on site have recommended that Durango commence stripping and further sampling on the East block and South-East block as soon as possible and visit the North-West block this winter by snowmobile.
Marcy Kiesman, President of Durango stated, "We had a short window of time to move on our Windfall Lake properties before hunting season, so we decided to commence exploration immediately on the claim blocks bordering Osisko Mining (TSX.V-OSK). These claims have previous gold results as announced on May 30, 2018 and July 23, 2018, and once the IP survey is completed we will have the opportunity to complete additional follow up sampling as required before the winter."
Further updates will be released as they become available.
About Durango
Durango is a natural resources company engaged in the acquisition and exploration of mineral properties. The Company has a 100% interest in the Decouverte and Windfall gold properties in the Abitibi Region of Quebec, and certain lithium properties near the Whabouchi mine, the Buckshot graphite property near the Miller Mine in Quebec, the Whitney Northwest property near the Lake Shore Gold and Goldcorp joint venture in Ontario, the Dianna Lake silver project in northern Saskatchewan, and the Mayner's Fortune limestone property in northwest British Columbia.
For further information on Durango, please refer to its SEDAR profile at www.sedar.com.
George Aizpurua, VP of Communications
First Canadian Capital Corp.
Telephone: 416.742.5600 or 647.500.2389
Email: gaizpurua@firstcanadiancapital.com
Marcy Kiesman, Chief Executive Officer
Telephone: 604.428.2900 or 604.339.2243
Email: durangoresourcesinc@gmail.com
Website: www.durangoresourcesinc.com
Forward-Looking Statements
This document may contain or refer to forward-looking information based on current expectations and the impact on the Company of these events. Forward-looking information is subject to significant risks and uncertainties, including market conditions, commencement and completion of exploration, positive exploration results, and raising additional capital for exploration expenditures, as actual results may differ materially from forecasted results. Forward-looking information is provided as of the date hereof and we assume no responsibility to update or revise them to reflect new events or circumstances. For a detailed list of risks and uncertainties relating to Durango, please refer to its prospectus filed on its SEDAR profile at www.sedar.com.
Neither TSX Venture Exchange nor its Regulation Services Provider (as that term is defined in the policies of the TSX Venture Exchange) accepts responsibility for the adequacy or accuracy of this release.