Sept 11, 2018 / TheNewswire / Vancouver, British Columbia - BLACK TUSK RESOURCES CORP. (TUSK:CSE) (''Black Tusk'' or the ''Company'') is pleased to announce that it will participate in the 2nd Annual RAI$E on the WEST COAST Small-cap Investing Conference in Vancouver, B.C. on September 14.
In addition, the Company is pleased to announce that it will be hosting a capital markets event on Thursday, September 13, 2018, at No. 3507, 1111 West Pender St., from 1:30 p.m. to 5 p.m. PST. Please contact Christina Rao at 604-723-7480 to RSVP.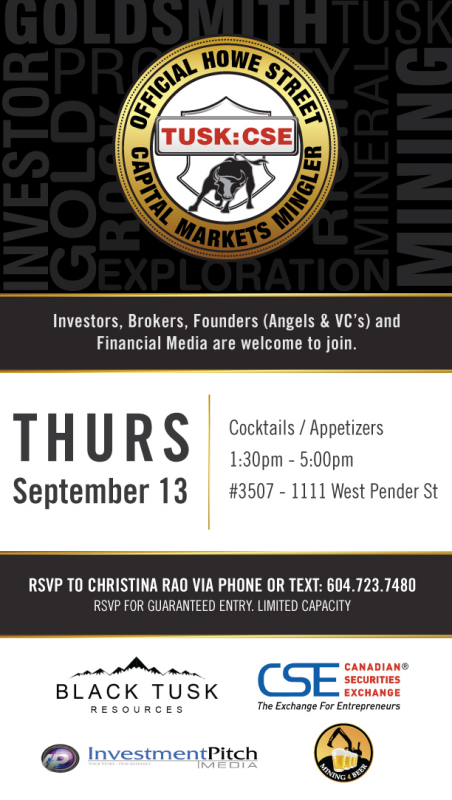 Click Image To View Full Size
About Black Tusk Resources Inc.
Black Tusk is engaged in the acquisition and exploration of its mineral property located in British Columbia, Canada. Pursuant to the Goldsmith option agreement, the company currently has an option to acquire a 100-per-cent undivided interest in the Goldsmith property situated approximately is situated in the Kootenays, approximately 65 kilometres north of the city of Kaslo, B.C.
Richard Penn, CEO
Black Tusk Resources Inc.
778-384-8923