YDreams Corporate Update: Intel, Movie Theatres and Mixed Reality



Vancouver, BC / TheNewswire / October 16th, 2018 – YDreams Global Technologies Inc. (TSX-V: YD) (OTC: YDRMF) (Frankfurt: A2AP0L) ("YDreams" or the "Company") is pleased to present its October monthly corporate update. Arkave VR continues to grow and develop, working with Intel, MixCast and gets thumbs up from Charlie Fink one of the industry's most influential voices who writes for Forbes. YDStudio division continues to launch high end projects for well-known brands.
Arkave VR:
In September, Arkave VR was officially launched as a turnkey solution at two events in Vancouver BC: VRARA Global Summit and the Extraordinary Future.
YDreams Global would like to thank all the shareholders and investor who visited the booths to learn more about the company, meet the team and tried the game "The Last Squad" by Arkave VR.
The VRARA Global Summit:
"Playing Arkave was one of my favorite experiences of the VR/AR Global Summit. The high-quality level of social gameplay is as good as it gets, and our team has received significant positive feedback from attendees." said Nathan Pettyjohn, Founder & President, VR/AR Association and VR/AR Global Summit.
This event was critical as it brought together all the strategic players in the VR/AR space which allowed YDreams to build new relationships with leaders in the sector. Arkave VR showcased what is possible in the space and impressed everyone that tried it.
"Y-Dreams free roam VR adventure "The Last Squad" delivers world-class entertainment with this robot wave shooter. I liked so much, I did it twice!" said Charlie Fink - AR/VR Consultant, Columnist at Forbes, Speaker and Author. Arkave getting a positive endorsement from someone as notable and influential as Charlie is in the AR/VR Sector is encouraging beyond belief.
Intel and Arkave VR
Intel is partnering with YDreams on their new high-quality multiplayer location-based VR gaming experience. Intel's Virtual Reality Group is working with YDreams to enhance the Arkave experience with wireless headset technology developed in partnership with HTC.
Raj Puran, Director of Client VR Business Development & Strategic Partnerships from Intel stated "Arkave is one of the most compelling and exciting team multiplayer experiences in VR. YDreams and the team behind Arkave have created an innovative approach to Location Based VR and is just a ton of fun to challenge with your friends!", says Mr. Puran, "We are excited to see this market grow and proud to support a partner like YDreams with our technology roadmap. Their platform is incredible and offers a real turnkey solution to Location Based VR Entertainment."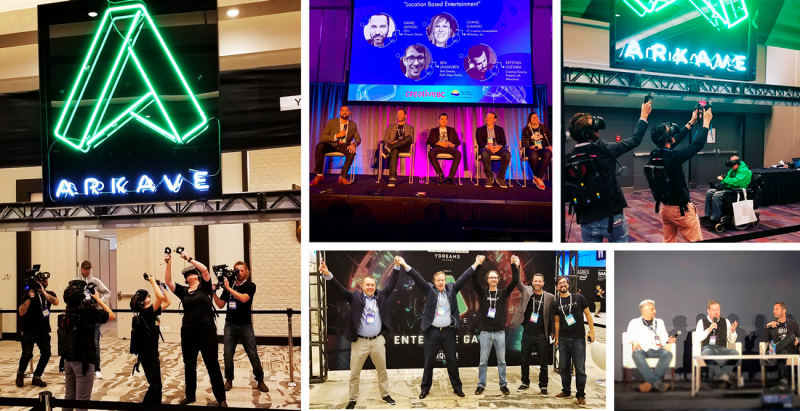 Click Image To View Full Size
Extraordinary Future:
"Arkave was an absolute highlight of our Extraordinary Future Conference. I saw CEOs, seasoned investors, and the Vancouver tech crowd all laughing like kids as they tried the experience together. YDreams had a line from the time the event opened until they tore it down for a very good reason. I look forward to seeing Arkave in locations all around North America!" said Sean Mcmillan, Account Manager at Cambridge House, the producers of Extraordinary Future.
Various social media posts created a buzz outside of the show and Daniel Japiassu the CEO of YDreams spent a good portion of the show conducting media interview requests which helped with general market awareness and helped strengthen the Arkave brand.
Blueprint Reality Inc.
YDreams continues to be innovative with its Arkave VR Experience by signing a cooperation LOI with Blueprint Reality Inc. The objective is to promote and create business links between the two parties starting with the product MixCast which is the world's most powerful solution for the broadcast and presentation of mixed reality. MixCast seamlessly blends realities together for instant sharing of virtual experiences.
The solution records the experience from players during their gameplay and transforms into different formats of media that can be shared in social media or print. Imagine sharing your virtual experience or adventure with your friends in a video not as an avatar but as yourself. This allows people to remember, share and relive the experience while becoming a marketing tool as they share.
By offering the solution as an add on to Arkave VR, the Company is creating another differential to its sales strategy and another source of revenue to future clients of Arkave VR.
Further information about MixCast can be found at Blueprint Reality's website: www.blueprintreality.com
Quanta DGT and Movie Theaters
Previously, (news release June 25th,2018) YDreams Global announced a partnership with Quanta DGT to bring VR experiences to over 1000 movie theaters in Brazil.
In the first week of October, YDreams and Quanta DGT brought Arkave VR to Expocine, the biggest event in Latin America focused on the film industry exhibition, distribution and suppliers of technologies, services and products to that industry. It had thousands of visitors including major movie studios such as Walt Disney, 20th Century Fox, Warner Bros., and Universal Pictures.
The event helped to create awareness of the Arkave brand and to accelerate the implementation of Arkave as a main solution for Movie Theaters lobbies. The goal is to launch the first Arkave VR Arena before the end of 2018.
"As partners to YDreams we appreciated the unique experience that Arkave VR brought to the event and enjoyed by industry people and general visitors. We established several innovative opportunities to the movie distribution market and are excited to bring virtual reality and the gaming universe to theatres." said Fabiana Marschalk Marketing at Quanta DGT.
YDreams Studio Division:
The Company launched a new project for Petrobras and McLaren (see news release dated October 1st, 2018). Marking the first branded content, the project uses the Arkave VR Engine and is a multi-player, free roam, Virtual Reality experience to simulate building a F1 McLaren car and mixing fuels to test.
YDreams is also finishing the first phase of a consulting project for a company from the Energy Production Industry. The project is a large scale permanent educational exhibition, similar to some of the biggest projects done by the Company in the past.
"We are seeing a higher demand for consulting that can lead to long lasting relationships with strategic clients. Brands now understand the relevance of positive interactive experiences and are allocating bigger budgets for innovation, which is great for YDreams." – stated Karina Israel, COO and co-founder of YDreams Global.
Advisory:
The Company welcomes Keith Hopkins and Jorge Alberto Reis to our group of advisors. Both are very experienced entrepreneurs with an impressive career and business network. We look forward to working with them as the Company expands into International markets.
"It's vital to every growing company to learn from the experience of those who have lived similar experiences and have the good heart to share their knowledge. Successful enterprises are collective by nature and it´s a privilege to bring Jorge and Keith on board as advisors. They are references in their industries and their interest in YDreams is a sign that we are on the right path." – Stated Daniel Japiassu – CEO of YDreams Global.
About Jorge Reis, Advisor
Mr. Reis was a Co-Founder and the first CEO of Ingresso.com, the largest Brazilian online ticketing company. Mr. Reis was responsible for developing the company's business plan and led its start-up fundraising process. The company was sold to Submarino Group where Mr. Reis became a director. Submarino.com was Latin America's largest e-commerce only digital platform. The merger between Submarino.com and Americanas.com resulted in the creation of B2W Inc., the largest e-commerce company in Latin America. During his tenure at B2W Inc, he was promoted to Managing Director. In addition to managing Ingresso.com, Mr. Reis was also in charge of other business units such as; Blockbuster Online, International Expansion, Telesales, Corporate Sales and New Business Development.
In 2012, Mr. Reis founded Tudus.com, a new digital platform that allows the sale of tickets and the development of digital properties. In 2017 Tudus.com sold more than 1.5 Million tickets.  Mr. Reis holds a PHD in Production Engineering.
About Keith A. Hopkins, Advisor
Mr. Hopkins began his career in corporate finance in 1996 at Putnam Investments as a Treasury Analyst. After completing his MBA in 2000, Mr. Hopkins was recruited to join Wind River Environmental where he led the acquisitions group. In 2004 Mr. Hopkins ventured into real estate development primarily in South West Florida. Mr. Hopkins was recruited to sit on the Investment Committee at Sama Dubai, the international property development arm of Dubai Holdings.  In this role Mr. Hopkins was in charge of reviewing pro forma models and feasibility analyses of billion-dollar development projects throughout Africa, the Middle East and Asia. Mr. Hopkins returned to Florida and launched Canus Capital which focused on foreclosed properties. In 2016 Mr. Hopkins founded StageXchange, LLC a universal deal management platform. The platform is designed to reduce risk by aggregating information obtained from disparate public and private sources regardless of format.
Mr. Hopkins has been a guest lecturer at the Urban Land Institute, University of Arizona, Johns Hopkins University and Georgetown University. He has also served as an Advisor in the MPS Real Estate Program at Georgetown University. In 2017, Mr. Hopkins was invited to present at the SelectUSA Investment Summit in Washington DC on the topic of FDI lead generation hosted by the US Dept. of Commerce. Most recently, Mr. Hopkins spoke at Endeavor's Match.VC event held at the Mexican Bolsa (Stock Exchange).
The Company has also granted 750,000 stock options at an exercise price of $0.15 for a three year term to consultants of the Company pursuant to its Rolling Stock Option Plan.
About YDreams Global
YDreams Global Interactive Technologies Inc. (www.ydreamsglobal.com) is a technology company with offices in Vancouver, São Paulo and Rio de Janeiro. that combines Augmented and Virtual Reality Technology, Design and Intelligence to respond to the challenges and demands of today's users and consumers.
The Company has launched its Arkave VR platform, a gaming arena that brings the most immersive experience of Virtual Reality with a highly scalable business model.
Arkave VR has a flagship store in Brazil and is being expanded to the United States and Canada through a network of distributors that will focus on the thousands of Family Entertainment Centers that exist in North America and are in constant search for innovative attractions.
The YDStudio division works as a partner for companies and brands to reframe their strategy through relevant human-centered ventures that integrates digital experience with physical presence and venues. YDStudio anticipates future challenges and connects them with the needs of the market, building innovative concepts and delivering them with international excellence.
YDreams Global´s Studio have developed over 1,300 projects for clients all over the world, such as Disney, NBA, Adidas, Cisco, Nokia, Nike, Mercedes Benz, Coca-Cola, Santander, AmBev, Qualcomm, Unilever, City of Rio and Fiat.
More Information:
Daniel Japiassu
Director and Chief Executive Officer
hey@ydreamsglobal.com|www.ydreamsglobal.com|www.youtube.com/ydreamsglobal
Neither TSX Venture Exchange nor its Regulation Services Provider (as that term is defined in the policies of the TSX Venture Exchange) accepts responsibility for the adequacy or accuracy of this release.
This communication contains "forward-looking statements" within the meaning of applicable Canadian securities regulations. All statements other than statements of historical fact herein, including, without limitation, statements regarding our current and future plans and objectives, are forward-looking statements that involve various risks and uncertainties. There can be no assurance that such statements will prove to be accurate and future events and actual results could differ materially from those anticipated in such statements. Important factors that could cause actual results to differ materially from our expectations as well as a list of risk factors that we deem relevant are disclosed in the documents we file from time to time via SEDAR with the Canadian regulatory agencies to whose policies we are bound. Forward-looking statements are based on our current assumptions, estimates and opinions and are inherently subject to significant business, economic and competitive uncertainties and contingencies, many of which are difficult to predict and generally beyond our control. We do not undertake any obligation to update forward-looking statements should our assumptions, estimates or opinions change, other than as required by law and readers are advised not to place undue reliance on forward-looking statements.
Statements included in this announcement, including statements concerning our plans, intentions and expectations, which are not historical in nature are intended to be, and are hereby identified as, "forward‐looking statements".  Forward‐looking statements may be identified by words including "anticipates", "believes", "intends", "estimates", "expects" and similar expressions.  The Company cautions readers that forward‐looking statements, including without limitation those relating to the Company's future operations and business prospects, are subject to certain risks and uncertainties that could cause actual results to differ materially from those indicated in the forward‐looking statements.