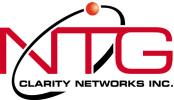 Toronto, ON / TheNewswire / May 21, 2019 - NTG Clarity Networks Inc. (TSX.V:NCI), is pleased to announce its first quarter results for the period ended March 31, 2019 (all figures in Canadian Dollars).
Significant recent company milestones include:
- In February 2019, closed a shares for debt private placement which reduced payables by $360,000

- Returned the Company to profitability in Q1/19

- Income from operations of $452,078

- Subsequent to quarter end, in May 2019, we issued a series of press releases, starting with the announcement of a new sales model, and then announcing a new project with a new customer worth $2.4 Million.
Consolidated revenue for the three months ended March 31, 2019 was $3,616,344 compared to $4,049,061 for the same period in 2018 and is made up of product-related revenue, professional services and a small amount for hardware. Professional service revenue continues to be an important strategic source of revenue for us, given its generally recurring nature (71%). The contribution of product-related revenue increased to 19% in Q1 2019 as we work to make product sales a more balanced part of NTG's revenue stream.
Gross margin for Q1 2019 was $1,583,959 or 44% compared to $1,547,831 or 38% for the same period in 2018. We continue to work in all regions to optimize the cost of sales for our revenue growth.
G&A expenses for the three months ended March 31, 2019 were $584,195 compared to $621,086 in Q1 2018, as management worked to reduce expenses. This 6% reduction was due to the continued reduction of salaries as we reduce staff and salaries as contracts allow.
Selling expenses were also reduced by 6% during Q1/19 and totaled $398,995 compared to $423,523 during the first quarter of 2018. Selling and marketing expenses consist primarily of sales staff remuneration, commissions, travel, advertising, consulting, and trade show costs.
During the first quarter of 2019 the Corporation recorded net income of $304,719 as compared to net income of $160,482 in Q1 2018. This is a substantial improvement, and we continue to work to optimize costs for our current revenue.
Working capital as at March 31, 2019 was ($4,081,521) compared to ($4,861,655) as at December 31, 2018. The Company has no long-term debt.
Income Statement Highlights for the Three Months Ended March 31, 2019 and 2018
March 31, 2019

March 31, 2018

REVENUE

$

3,616,344

$

4,049,061

COST OF SALES

2,032,385

2,501,230

GROSS MARGIN

$

1,583,959

$

1,547,831

Operating Expenses

1,131,881

1,053,459

Other Expenses

254,814

244,893

Net Income before taxes

$

197,264

$

249,479

Other - Exchange gain (loss) on translation

107,455

(88,997)

Net Income after Taxes

304,719

160,482

per share (basic)

$

0.01

$

0.00

per share (fully diluted)

$

0.01

$

0.00
March 31, 2019

December 31, 2018

Current Assets

$

7,421,247

$

6,739,520

Current Liabilities

$

11,502,768

$

11,479,398

Long-Term Debt

$

---

$

8,005

Shareholder's Equity

$

(2,659,638)

$

(2,900,141)
Outlook
Looking towards the future, we are very pleased with having returned the Company to profitability in Q1, 2019. We have already experienced success with our new sales model announced on May 6th and we expect to announce a number of additional contracts under this model as they are received.
We are also optimistic that Saudi Arabia (KSA), our principal operating region where NTG has been doing business for over 13 years, is starting to show signs of recovery. Although our KSA revenue decreased significantly in 2018, the spending reduction in the government sector seems to be improving in 2019, and we look forward to winning new projects accordingly.
Our cost cutting measures implemented over the last couple of years have shown significant improvement in the bottom line performance of NTG Clarity but the more meaningful cuts in this regard are now coming to an end. The Company is now focusing on improving revenue through legacy sales channels as well as through new sales partnerships which are already showing significant promise. We would like to thank all of our shareholders who have supported the Company over the last couple of very challenging years and look forward to returning the Company to solid sales growth and profitability.
About NTG Clarity Networks Inc.
NTG Clarity Networks' vision is to be a global leader in providing networking solutions. As a Canadian company established in 1992, NTG Clarity has delivered networking, IT and network enabled application software solutions to network service providers and large enterprises. More than 300 network professionals provide design, engineering, implementation, software development and security expertise to the industry's leading network service providers and enterprises.
Forward Looking Information
Certain statements in this release, other than statements of historical fact, are forward looking information that involves various risks and uncertainties. Such statements relating to, among other things, the prospects for the company to enhance operating results, are necessarily subject to risks and uncertainties, some of which are significant in scope and nature.
These uncertainties may cause actual results to differ from information contained herein. There can be no assurance that such statements will prove to be accurate. Actual results and future events could differ materially from those anticipated in such statements. These and all subsequent written and oral forward looking statements are based on the estimates and opinions of the management on the dates they are made and expressly qualified in their entirety by this notice. The Company assumes no obligation to update forward looking statements should circumstances or management's estimates or opinions change.
The TSX Venture Exchange does not accept responsibility for the adequacy or accuracy of this release.
For Further Information:
Doren Quinton, President QIS Capital
Ph:250-377-1182
Fax:250-377-1183
Email:info@smallcaps.ca
Kristine Lewis, President, NTG Clarity Networks Inc.
Ph: 905-305-1325
Fax: 905-752-0469
Email:klewis@ntgclarity.com